Awarded the 2016 Audience Award
The public also expressed their preference, by designating the victory of Elena Diaco Mayer and Mostafa Rahimi Vishteh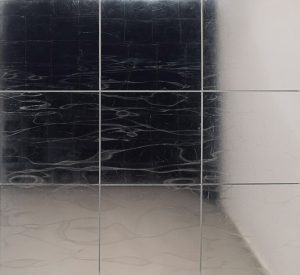 Elena Diaco Mayer is an academically trained artist, of Padua. She presented the work "Ritrovarsi in un riflesso". This is a painting on aluminum leaf graffitied on laminate that simulates the surface of the sea and its fascinating reflections. She was born in Padua. She graduated in Stage Design at the Academy of Fine Arts of Brera and specialized with honors in Painting at the Academy of Fine Arts of Catanzaro. She studied Arabic, Orthodox iconography, Japanese calligraphy.
Her work is characterized by the use of natural and essential elements, and an iconography that is based both on the western artistic tradition and on the Orthodox and Eastern cultures. Her paintings and sculptures use monochrome color and large gold background paintings, abstract writings and modulations of the sign.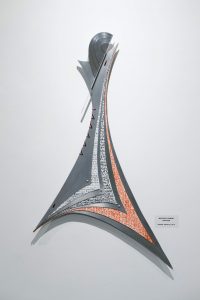 Mostafa Rahimi Vishteh was born in Tehran (Iran). He lives and works in Latina. He is an architect specialized in Stained Glass. He creates sculptures and installations through the combination of various materials. He presented the work "Sapere sepolto".
He graduated in Architecture at the University of Florence, in 1980.He worked in some Studies of Architecture in the same city, as architectural and furniture designer until 1992, and later on his own until 1998. During this last period, he approached the art of stained glass, studying and deepening the design and construction techniques.
Since 1999 he has created his own technical and artistic vision, in order to make the different physical properties and aesthetic characteristics of the various materials interact into a single composite and harmonious artwork. Modern sculptures and installations are made through the combination of materials such as iron, steel, copper, aluminum and glass, and curved geometries.