SonoContour by Sergey Filatov
Spazio COMEL Arte Contemporanea
From 8 to 23 June 2019
scientific care by Giorgio Agnisola
"In the work Platasonus, Sergey Filatov, referring to the experiments between avant-garde music and visual arts, uses aluminum as sound metal with essential construction and original and minimal technology, thanks to the percussive action of wires moved by simple electrical devices, bearing small clappers at the end. The contrast between the functional essentiality of the structure and the evocative randomness of the musical effects is resolved in a sense of delicate, discreet and intimate harmony, which is not free from a subtle and perhaps disquieting allusion to the possible hybridizations between man and machine"
from the minutes of the jury, october 2018
After performing as a guest of the French-Lebanese artist Tarek Atoui at the Arsenal of the 58th Venice Biennale "May you live in interesting times" curated by Ralph Rugoff, Sergey Filatov, sound artist, musician, author and developer of musical instruments and sound sculptures, is preparing to return to Italy for his solo show at the Spazio COMEL Contemporary Art of Latina
"SonoContour" will be inaugurated Saturday 8th June at the presence of the scientific curator Giorgio Agnisola, art critic and writer, professor of sacred art at the Pontifical Theological Faculty of Southern Italy. On display there will be eleven sound sculptures made with recycled materials. Sergey Filatov gives them a second life, by exploiting the acoustic properties of the objects in a revolutionary way. His sound sculptures are born from an observation of nature and at the same time from a reorganization of sound in space through a holistic approach to contemporary art. His works therefore combine the principles of sound art with kinetic art, techno art and recycling.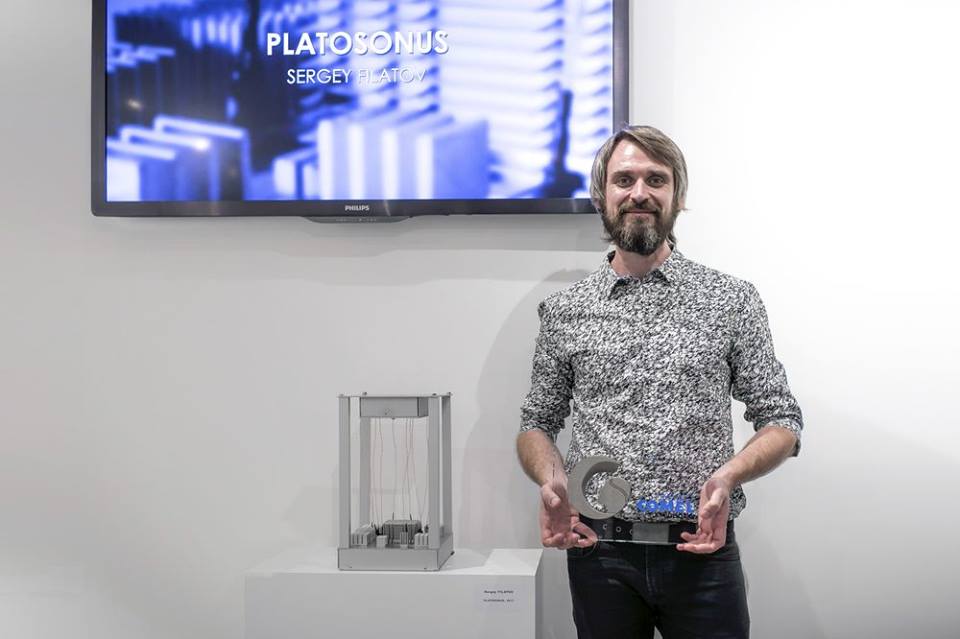 The title "SonoContour" recalls the concept of circularity of sound: there is not only a circular repetition of the movement in Sergey Filatov's sculptures, but also a symbolic reference to the circular movement of energies, situations, eras, a return to oneself deeper and deeper because. With every movement, experiences and knowledge are stratified, broadening this way horizons and knowledge.
At the Spazio COMEL, Sergey Filatov will recreate a real sound environment, in which the viewer can immerse himself by observing the movement of the sculptures and the sounds produced using different techniques elaborated thanks to an in-depth study of sound propagation in the environment. The Russian artist will be present at the opening of the exhibition performing in a live performance, during the evening the multimedia catalog of the exhibition will also be presented.
Among the works on show also Platosonus, winner of "Harmonies in Aluminium", 7th edition of the COMEL Award Vanna Migliorin Arte Contemporanea.