Darko Kuzmanovich
Belgrado, SERBIA
www.darko-kuzmanovich.com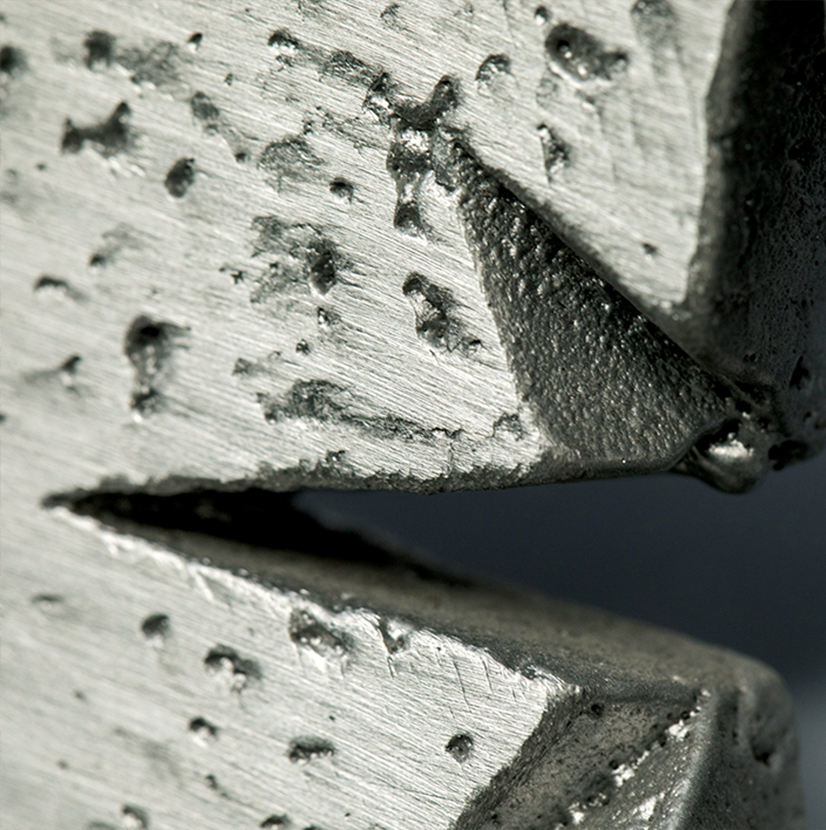 Darko Kuzmanovich
Belgrado, SERBIA
www.darko-kuzmanovich.com
He was born in Belgrade in 1971. Being an artist runs in the family: his father is the academic sculptor Aleksandar Kuzmanovich, Darko attended the secondary vocational school for processing precious metals and trained in the workshop held by the goldsmith Zlato Marijanović. He graduated in Applied Sculpture at the University of Applied Arts in Belgrade. In 2000 he became a member of the artistic committee ULUPUDUS. Besides being specialized in making theatre and film props, he has worked in developing his own art poetry through sculptures and installations. Lately he has become interested in graphic design. He was selected for the Sixth Edition of the COMEL Award, for the work One day and one night.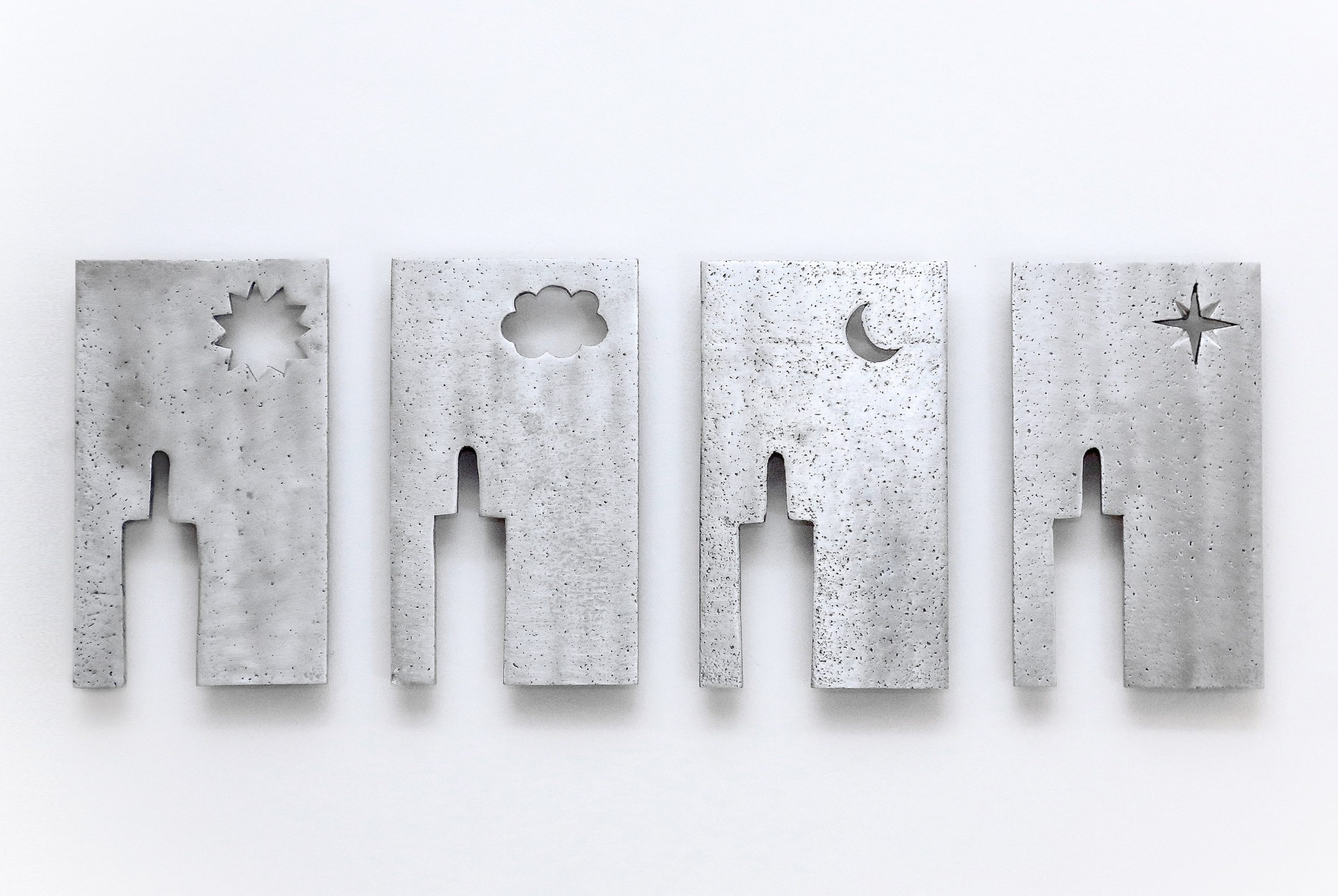 ONE DAY AND ONE NIGHT (Quadriptych), 2017
SCULPTURE - Aluminum Casting
cm 14,5 x 68

A symbolic modularity characterizes the work of the Serbian artist KUZMANOVICH DARKO (One Day and One Night, 2017). Four aluminum tiles have some symbols on the top part, obtained from the breakthrough of the tile itself (sun, cloud, moon, star). They are linked to another shape, identical in the four tiles, on the bottom part and recalling a human figure. Each form can be read metaphorically in the relationship between the symbol and the shape. As a whole, the four tiles may be interpreted in their narrative succession, alluding, as the artist himself writes, to the symbolic motives of day and night in human existence, and to the passage of time.
COMEL AWARD FINALIST 2017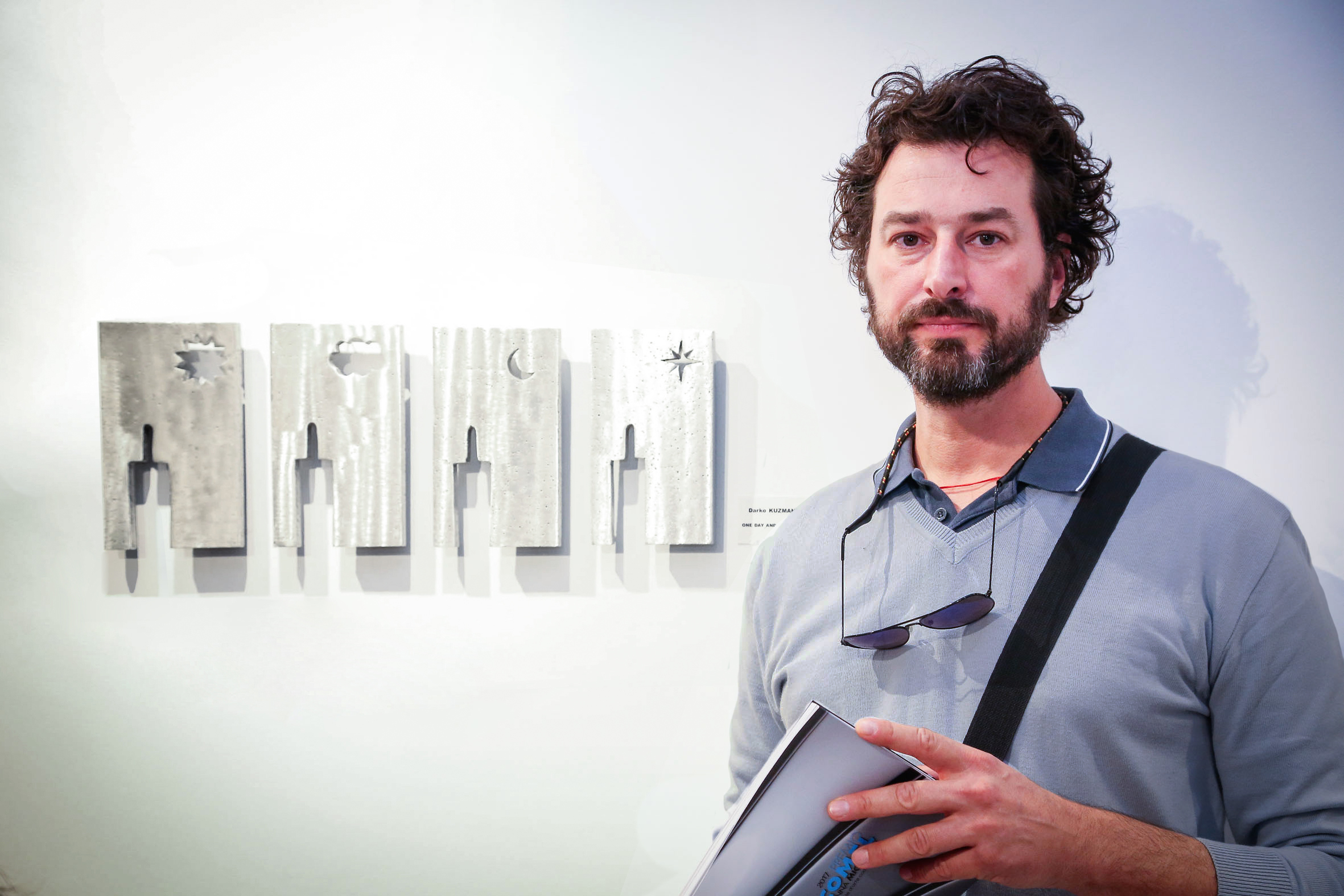 Art is a meeting place, a point where we are ready to see each other as we are.
Let's start with your participation to the COMEL Award, with the work One Day and One Night (quadriptych), in cast aluminum. This is the description you gave of it:
"It speaks of our conviction about the duration of the being through time. Time changes and we are constantly standing without realizing that we are part of the natural cycle. We can also observe vice versa, eternal being-consciousness, watching itself through time."
What's the origin of this work? How long have you been working on aluminum?
Actually, this is a story portrayed by a series of pictures as a comic strip. Here we have some silhouettes that stand with their symbols in the form of sun, moon, clouds and stars. They are represented like a subsequent segment and symbolize the time that passes inexorably. I derived my inspiration for this work from my research on the philosophy of Yoga, which I am still fascinated by. Yoga is a practice that transcends life itself. Body and mind control is established to overcome our limits, and to let the Self arise spontaneously and become the ruler of one's own life and death. However, there is also a contradiction in this very idea, because who is the Self that arises and wants to overcome? Perhaps the phenomena are more real than the one who perceives them. In fact, everything is due to a phenomenon. Now we are here, and the next moment we are not. This game can be viewed formally as a shift of cavity and full form, solidity and emptiness.
I wanted to keep an authentic idea that would be translated into a solid piece of material. The cast aluminum fills the mold nicely, retaining the detail of the transient ephemeral model. So, the process itself reflected the idea of a fullness and emptiness that is the main thread of my research.
Aluminum has a reputation of being cold (at first glance) and it's not among those glossy metals, which with their colors and reflection seduce the observer. It was ideal for my new work and my new beginning. The idea about that exhibition was to capture images into a solid state, which is in fact neither nice nor poetic and that cold look of aluminum tells the story of our nature and struggle in the given situation, what we call life.
In my previous works I didn't take into consideration aluminum at all.
As it appears to be, you always choose a philosophical, or better an existentialist, explanation/description for your works. What's the goal of this approach in consideration of the audience?
By simple visual language, I am trying to reach each man or woman individually. My works sometimes looks simple and some further explanations must be done. The deep insights I came to during the contemplation phases could be explained through songs, but I'm not good at singing, so sculpture is my medium of expression and the way to convey the message. I believe that understanding does not only have to be conceptual and that works operate on more mental levels, one of which is an intuition, and any subsequent explanation could spoil the impression. The texts accompanying the exhibition, my explanations and the descriptive attempts are just to direct others to re-examine their own philosophies, beliefs, ideas, to process them again and to separate the wheat from the chaff. That's all.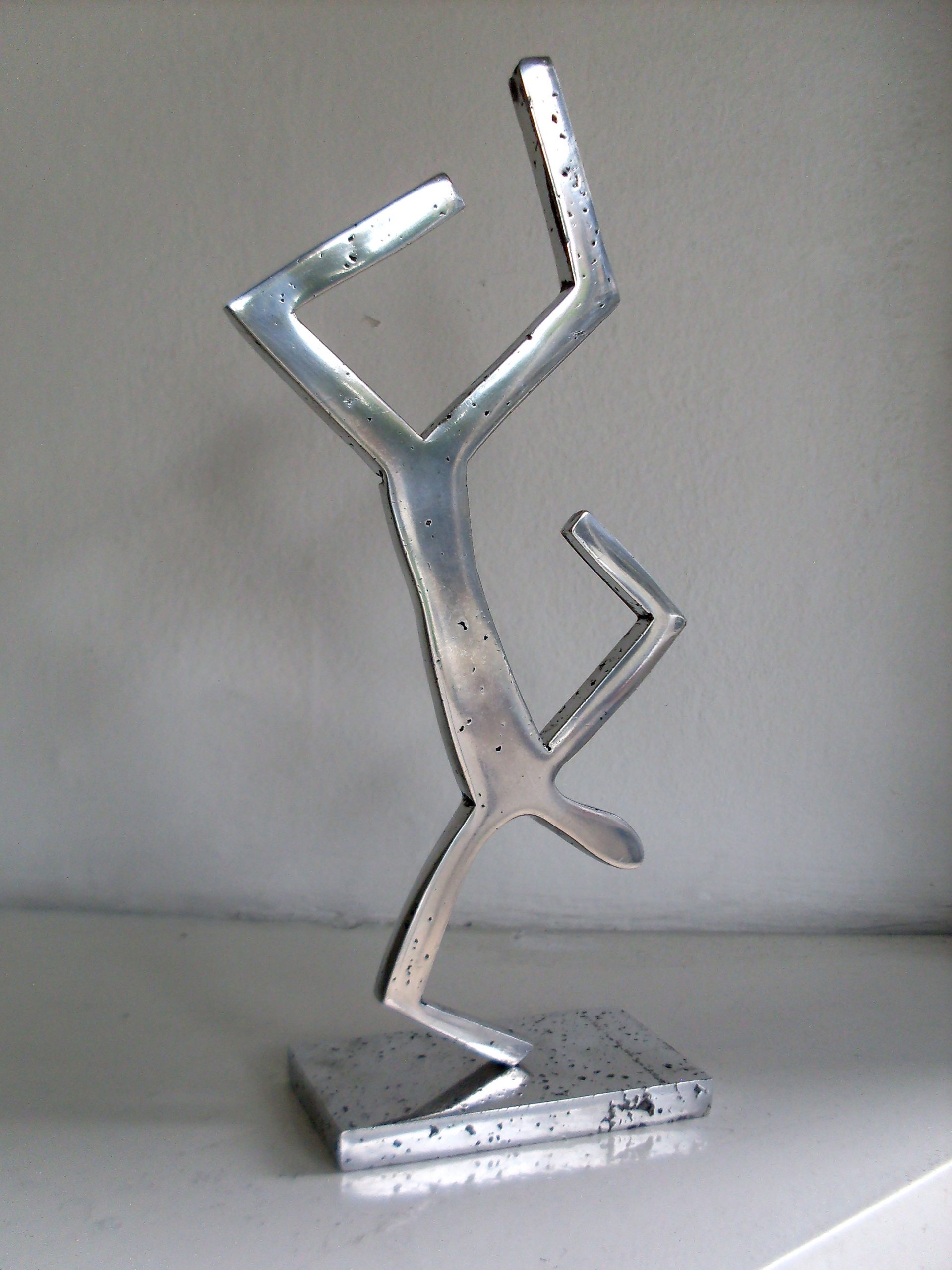 What's your background and who are the artists who have given you the inspiration for your art?
I do not include myself in any movement or artistic circle that would directly affect me. In the past, I was always the beholder of the main events but not the participant, which was frustrating, but it gave me a good position to work independently and judge impartially. Art scene in Belgrade, during the 1990s, which I followed, had a lot of influence on me, but indirectly. I can single out a couple of contemporary artists who, with their works and attitudes, influenced me and were my inspiration: these are Kosta Bogdanovic and Branka Kuzmanovic. Among world-renowned names, I have always been intrigued by the mystical sculptor Constantin Brâncuși.
Your father was an academic sculptor and he worked in the applied arts, such as theater, film, making portraits, and design. How did he influence your work?
He was my real model, I always wanted to prove myself in front of him, but the communication was insufficient. By looking at him and his work, I absorbed everything that he did, so I inherited all his skills. Unfortunately, he left us too early. His influence on me was a non-dogmatic attitude towards everything, he did not like to indoctrinate and that openness to all possibilities was terrifying but also magnificent at the same time.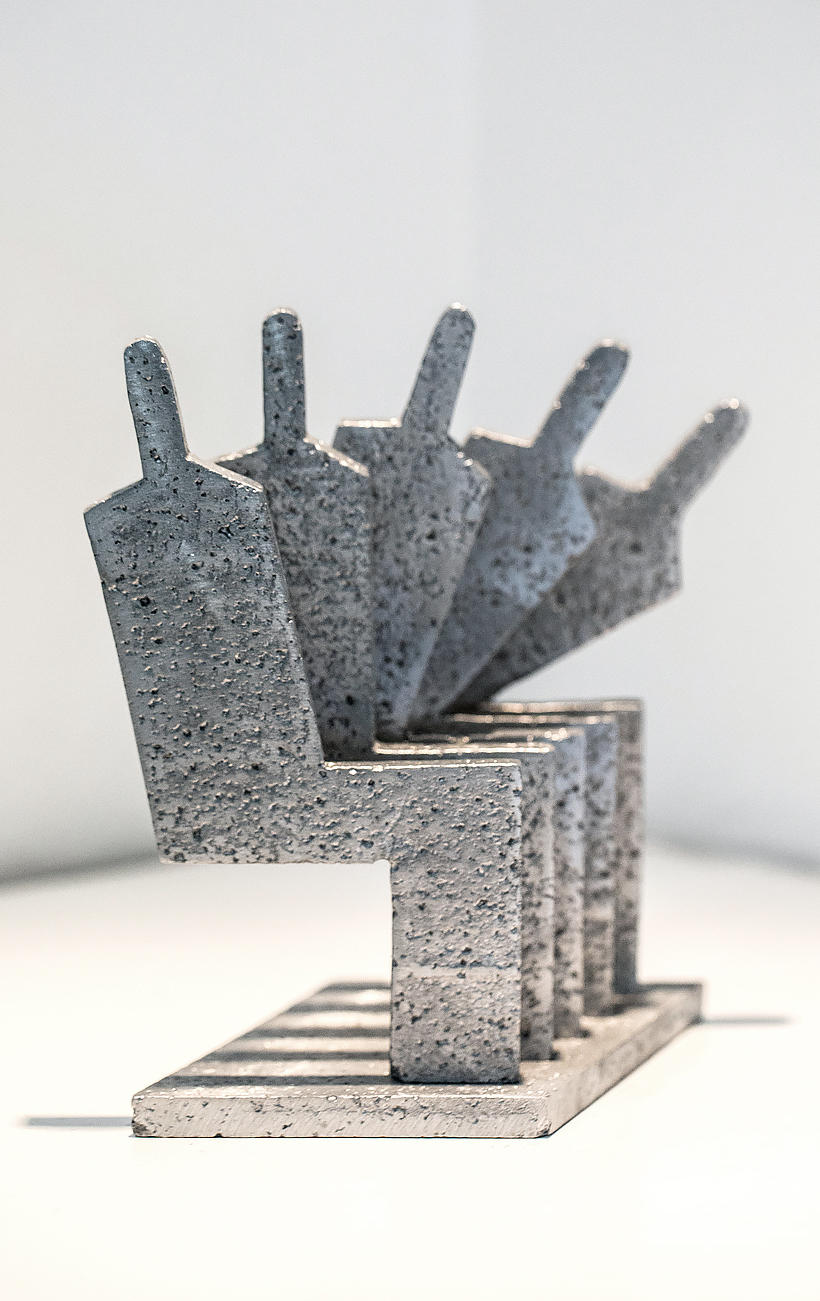 In 2000 you became a member of the Artists' Association ULUPUDS. How important is the union among artists?
We are a society in transition, so artists and institutions go through very dramatic changes. Being an artist in Serbia today is a social issue, literally a question of survival. On the one hand, it makes me feel proud being a member of my professional association, but on the other hand I feel like I'm in a twilight zone. As artists we do not have any privileges and the state is slowly pushing us onto the street to fight for ourselves and with our own means. Everything is crumbling and it's very difficult to get out of this poverty situation.
We're living a time of easy interpersonal communication. As a matter of facts, this results in an apparent mutual interaction. What's missing and how did you represent this emptiness?
Communication is necessary, and this age is that of the information revolution, isn't it? It is fascinating how in fact we are increasingly alienating each other. We are very generous and unselfish when we share likes on Facebook and we become very unpleasant and non-communicative in real life when we meet with difficulties. We look at the screens of our mobile phones self-grabbing one by one moments of enjoyment in virtual world.
I have a few works that deal with topics like: 'Silence', 'No problem', 'Observers', 'Back to back'. These works show how we become strangers to each other. It is terrifying where it leads. I am afraid that the younger generation will not be able to overcome those canyons filled with self-indulgence. I hope I'm wrong.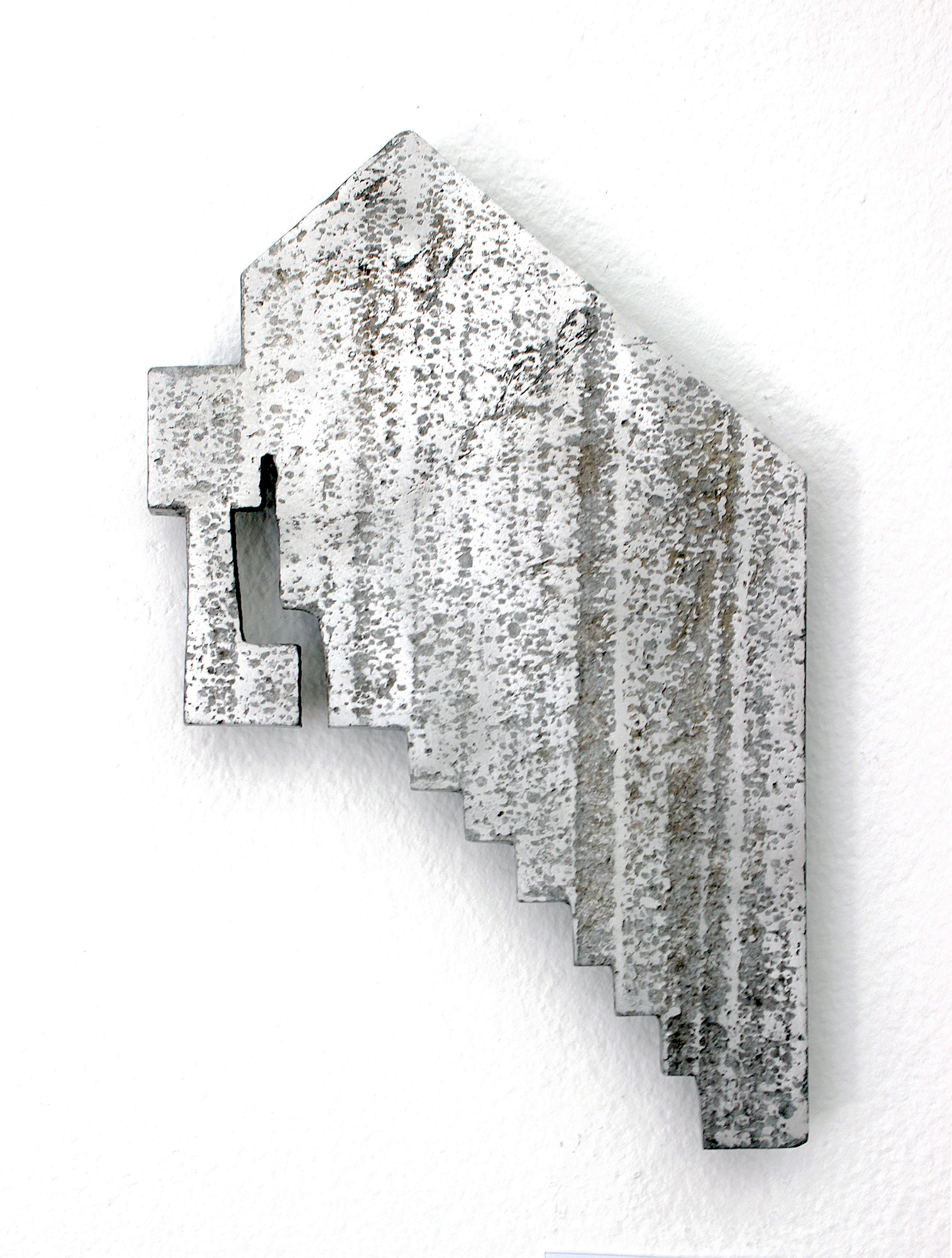 Spirituality is the status of ascending, and a hard achievement for human beings. Verticalization and fall are two extremes between which we move our existence. Which work best portraits this polarity?
We're like crazy individuals playing in the moonlight, enjoying our last moments by doing all the funny things to forget about our finality. There are attempts that, with great effort, make us able to get out of this cycle of suffering and enter the field of the Holy One. There are also those who touch those heights and then they crush down into the lower worlds. The Fall is the name of my work which describes such a sunset of the spirit.
Yugoslavia and Serbia: a story of difficult solution that belongs to our near past in the heart of Europe. Do you feel like telling something about this delicate process of peace? Do you think art may help people when politics divide?
Art is a bridge. It is a communication territory where all the borders and divisions are melting. I believe that an artist or artwork can be recognized even though it comes from the 'other' side. It is the only communication that is natural, human, sincere, which does not flatter and does not poison itself. It's a meeting place, a point where we are ready to see each other as we are.