Interview with Sonia Scaccabarozzi
Sonia Scaccabarozzi was born in Vimercate in 1969, and she currently lives and works in Merate in the province of Lecco. She attended the Monza Art Institute, where she met AG Fronzoni, a Milanese designer and teacher of life. In 1996 she approached sculpture by experimenting with different materials, ceramic was the first of these. She then moved on to wood, creating graphic-three-dimensional works with a strong chromatic impact, and then to metals. With iron, she created sculptures and installations that tell the story of everyday life, emotions, encounters, people, the sky, the moon, and the wind. Since 2019 she has also started using concrete, first experimenting its use together with paper, two opposite materials that allow her to play endlessly with different shapes, colours and thicknesses, and then with thread, in an evocative and emotional combination.

With the work Verso l'infinito e oltre (Toward Infinity and Beyond), which earned a special mention from the jury of the 9th edition of the COMEL award, Endless Aluminium, you invite the viewer to be open to new challenges, to change, to look to the future with passion and a desire to grow. A positive message that comes from a reflection on the material, in fact, you state "Aluminium teaches me just that: it can be recycled, heated, baked, shaped, it is capable of showing me forms and ways that I had not thought of and only by transforming it and processing it I discover my potentialities and its ones too.
How was your experience with this work and where did the idea of entering the Comel Award come from?
I find aluminium a wonderful metal that actively collaborates in the making of works; I say cooperates because it lets itself be worked with, it lets itself be controlled, it is as if between me and the material there is a kind of complicity.
In the past I have made other works in aluminium in one case I literally pierced the aluminium sheet, the work is entitled "Fuori dal mondo" ("Out of the World "). The lonely dot is the one who is outside the World, who is not aligned, who is searching, curious, surprised, and exploring.
"Blob," on the other hand, is a work in which aluminium wires embedded in concrete occupy space and time; they are well anchored but through light and different vantage points they convey dynamism and movement. It is very important for me the shadow that the works create, I think it is a vital component, consequently light is also fundamental, and inescapable; light creates the shadows and aluminium returns it by giving surprising, unexpected effects.
Toward Infinity and Beyond was created on purpose for the COMEL Award. The word endless within the title of the competition immediately brought to my mind a cartoon that my children, now young adults, would not stop watching. The message within this title is a hymn to look beyond, to overcome difficulties, to grow up not to stop learning, and aluminium in this case as I have already said allowed me to play, to discover new forms, to convey a message by distracting aluminum itself from what it is normally used for.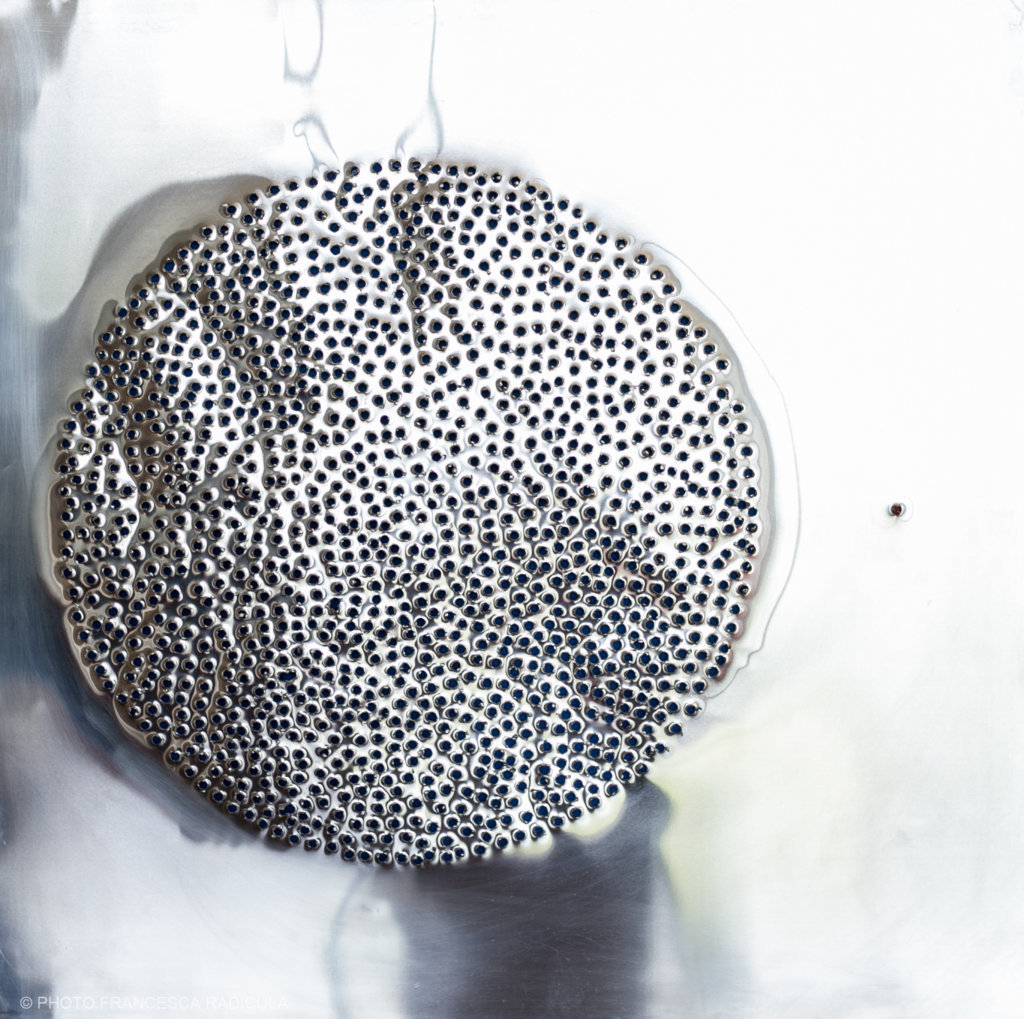 Talking about your artistic journey you state that it all started from the "need to express myself through drawing," then came the need to "give three-dimensionality to the sign" and "play with different shapes, colors, and thicknesses." A growth of shapes, sizes, and thicknesses: from drawing to graphics to sculpture, including large-scale sculpture, and installations. Was it a random and spontaneous evolution in the material sense or a deliberate and progressive search?
My story starts from graphic design, then two-dimensional, but in parallel grew the need to create to model to transmit "my inside" through my hands, so I turned this need to clay and slowly to other materials that I saw, that I "encountered" casually.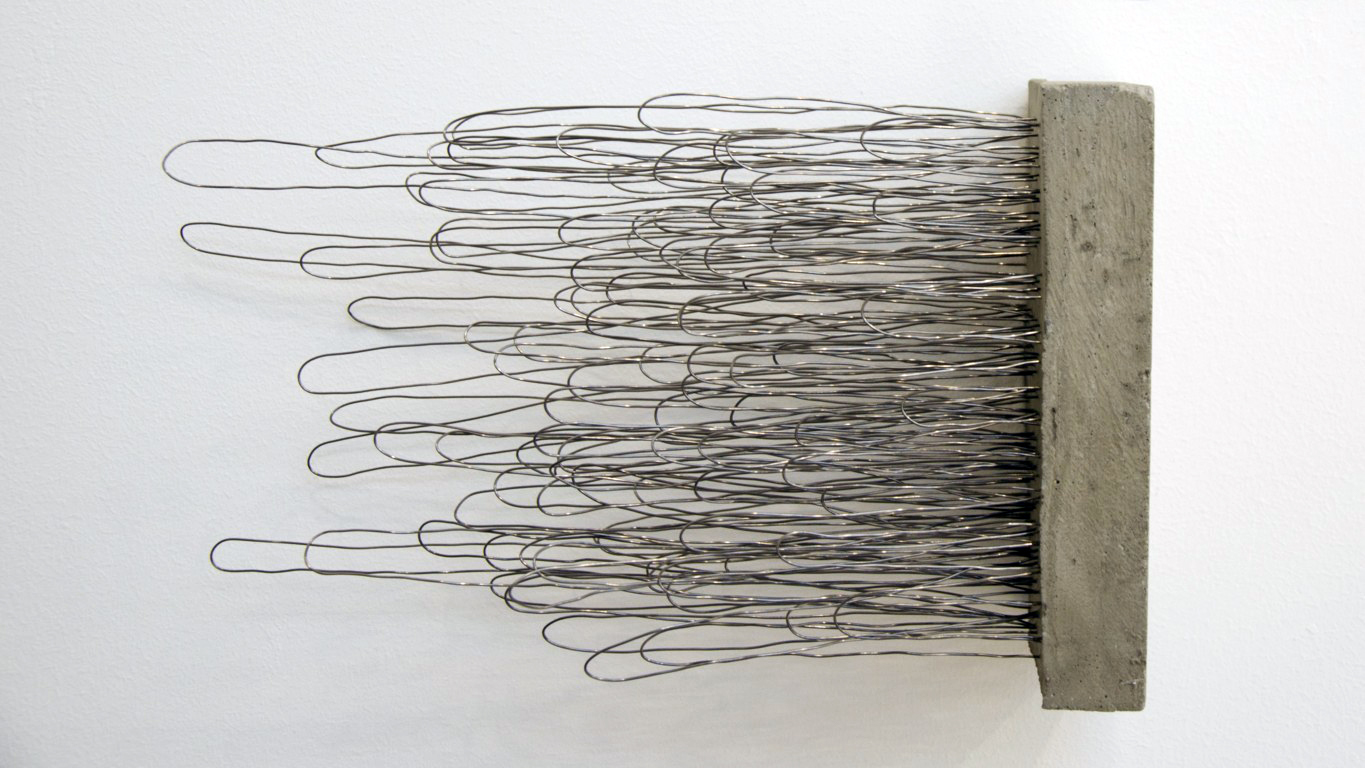 Poet and art critic Donato Di Poce calls your way of making Art "sculpted poetry," emphasizing how the stylistic-formal aspects go hand in hand with the more emotional and metaphorical aspects. You yourself state that you make "sculptures and installations that talk about everyday life, emotions, encounters, people, the sky, the moon, the wind." What is your priority when you create? What about your relationship with materials?
Art for me has become "healing." When I work I feel at peace, I feel free I feel safe, I feel happy. Working with materials is wonderful, materials help me feel, and experimenting tells me who I am. This work has led me to meet people I surely would not have reached without art, this aspect is also something that enriches and moves me.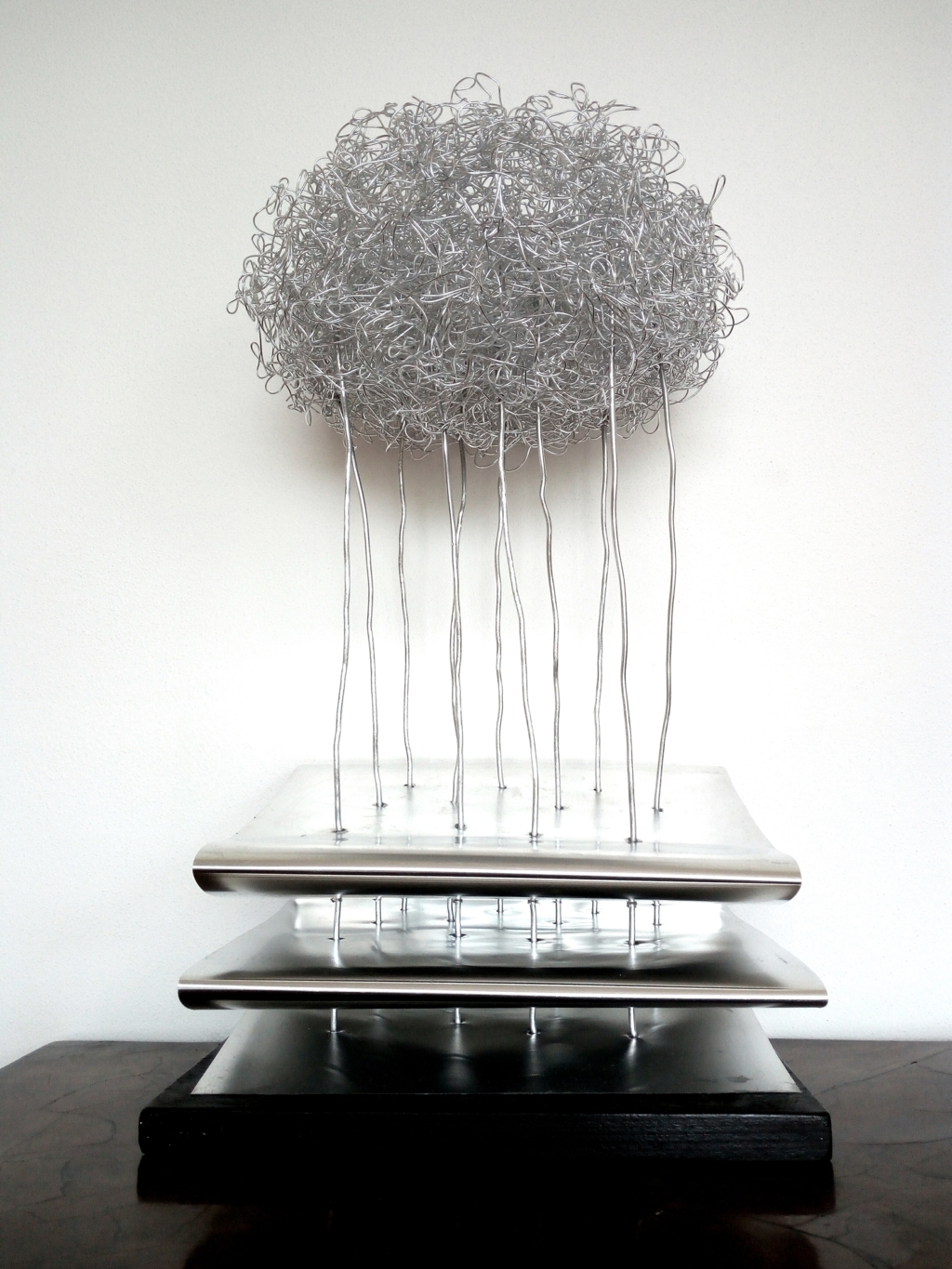 This poetic side of your works that is so often emphasized does not at all overshadow careful formal research, continuous experimentation with materials (from ceramics to wood, from metals to clay, from concrete to paper), and a precise design of the works. Does your creative process follow a particular path or does it change from time to time depending on the inspiration or material used? How do your ideas originate and develop?
The creative process does not follow a particular path, depending on the moment, the material, and the feeling, the work begins to take shape and it often happens that what I am making brings me new ideas, often even "mistakes" turn into new beginnings, what was wrong in one work becomes a valuable inspiration for another.