Interview to Vincenzo Lieto
Vincenzo Lieto is capable of rendering all the nuances and research of an artist in a precise path, he is the artistic director of the Pinacoteca di Gaeta, a small provincial reality that has hosted exhibitions of national importance, as part of the activities of the 'Novecento Cultural Association" of which he is a founding member.
In his family art has been breathed and lived for generations, during his youth he decided not to follow his family's footsteps and took other directions. At a certain point in his life, he returned to dealing with art, taking care of the preparation of important exhibitions, studying the life and works of local and non-local artists, contributing to catalogs, founding the Novecento Cultural Association together with other enthusiasts and scholars. What does art represent in your opinion? What did bring you back to a passion written, so to speak, in your DNA?
Yes, in my youth I followed other directions, I undertook other studies and had experiences apparently far from art, but actually, I never lost sight of it: I looked at many exhibitions, I visited many cities of art and, from time to time, I have practiced painting with a therapeutic purpose. But the real plunge into this fantastic world actually took place at a mature age when, with a handful of friends, we set up a cultural association to enhance the artistic heritage of our territory and then managed, with an innovative formula, the Municipal Art Gallery of contemporary art today named after the recently deceased gallery owner Antonio Sapone, who gave so much to me and to the art gallery itself. Furthermore, back in the early 2000s, I met Giorgio Agnisola, a polite and sensitive person, who constituted another important piece for my growth with his professionalism and his suggestions.
As artistic director of the Pinacoteca di Gaeta he has curated exhibitions of important exponents of 20th century art such as Burri, Barisani, Amendola, Hartung, Siza, Kijno, and among these also many oriental artists: from the Japanese Kojiro Shikama to the Chinese artists Paloma Chang and A-Sun Wu. Do you particularly love oriental art? Is oriental artists' approach to art different from Western ones? Do cultural differences affect the way they approach art or can we find a language that unites all of them, regardless of origin and cultural heritage?
Actually, the scientific curator of some major exhibitions that took place in the Pinacoteca, such as those of Burri, Jenkins and Magnelli, was Giorgio Agnisola, while I was involved in setting up stands and documentary equipment. This excellent teamwork led our small provincial cultural institution to compete with large city realities with very different and greater means. Despite having acquired a lot of experience in the field, I still feel like an art worker, aware of my strengths, skills, and limitations. I find great pleasure in particular in setting up exhibitions, where I seek exhibition balance, I try to suggest plausible and clear interpretations of the works and artists.
Yes, over the years I have been having contacts with oriental artists who have impressed me for their professional seriousness and interpersonal relationships, as well as the great respect they have for our country and its history. The approach of oriental artists to art differs from ours in terms of culture, geography, and religion. Generally speaking, I have noticed in their behaviour that spirituality, philosophy and art come together very well and with mindfulness.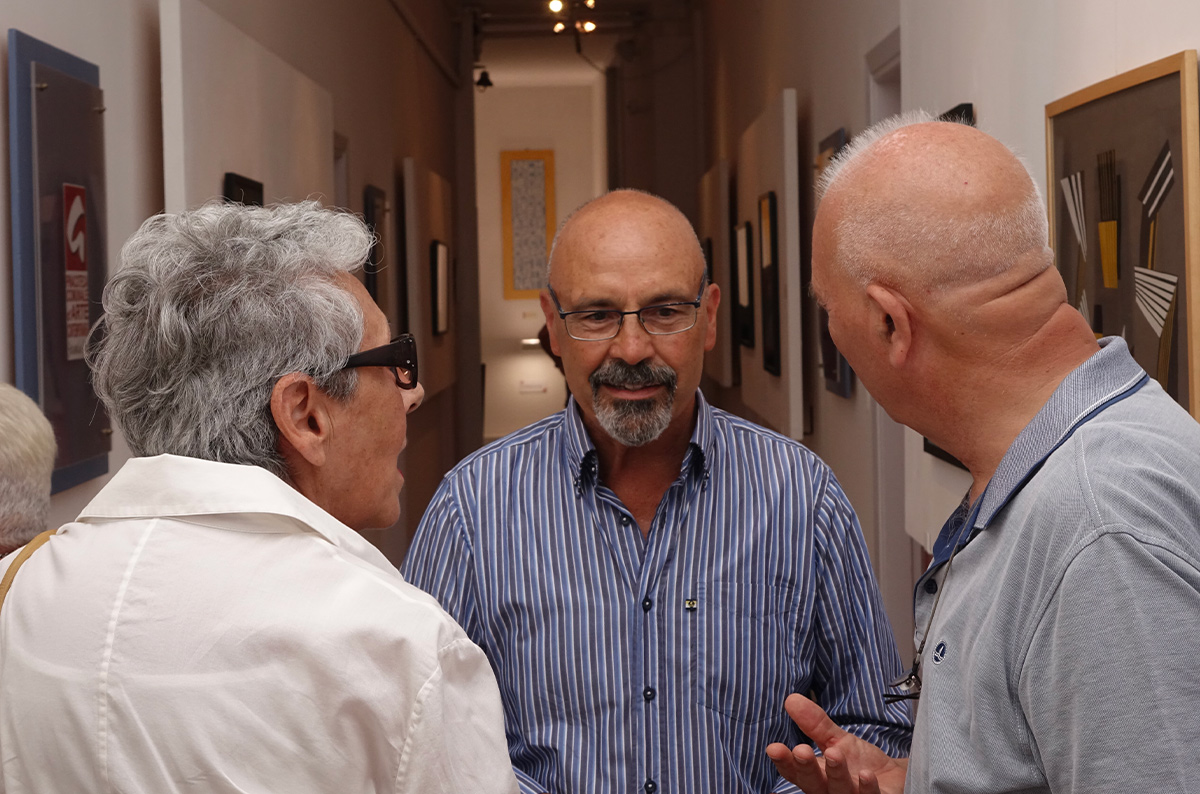 with Antonio Lieto and Ilia Tufano at the opening of the retrospective of Renato Barisani

During your career, you were able to closely observe the various stylistic, technical, currents of thought and philosophical developments of the past century, characterized by sudden changes and continuous revolutions. According to your experience, in these first twenty years of the 21st century is it already possible to observe a further change in the way of making art, in the techniques most used today by artists or are there elements of continuity with the 1900s?
The twentieth century was a century of great historical and social upheavals that art could not fail to witness and in many ways anticipate. When Duchamp, with an idea simple but revolutionary, seemed to have given a deadly push to millennia of art, he had only opened the doors to the future: when it seems that everything has been invented and created, someone's genius opens up new horizons.
I believe in the continuity of art, an infinite building made of different bricks, where the last sits on the previous one. Of course, technology is increasingly characterizing contemporary art at this end of the millennium, however, we are witnessing a –transversality of proposals that was unthinkable until a few decades ago.
The COMEL Award promotes the aesthetic and artistic use of aluminium, enhancing its peculiarities at each edition: lightness, malleability, shine, ductility. During the various editions, some artists have confessed to having approached this metal for the first time to participate, remaining then fascinated. During your career have you met artists who use this metal more or less frequently? Have you ever had the impression that the characteristics of a material can affect the creativity of an artist? or vice versa, does the artist decide to use a specific material because its characteristics will be essential to achieve the desired result?
The transversality I referred to, from Burri onwards, is also expressed through the continuous search for new materials to be used for artistic creations, and among these certainly aluminium is encountering encouraging acclaim, a material that has all the characteristics that you listed. To tell the truth, few times I have come across artists who use aluminium permanently, but I am following with interest and curiosity the project of the COMEL award whose qualitative progress is evident in the last editions, since the due importance has been given to this " metal" which in the beginning was reduced to simple support.
The artists are unique and unpredictable: sometimes it is the case that leads them to use a material, other times the choice is made consciously, sought, considered, studied. The result does not depend on one or the other but on the creativity of each one.