Interview to Sergey Filatov
Sergey Filatov is a versatile artist who works in the field of fine arts and sound art. He is also a musician, author of musical instruments and sound sculptures. Member of the International Association of Art — AIAP UNESCO since 2003. Winner of the international Kuryokhin Contemporary Art Prize 2016 in the category 'Best media object'. His works are in collections in Russia, India, Canada, Switzerland, UK, USA. He has participated in relevant international exhibition projects and festivals, such as 'Ars Electronica' (Linz, Austria), 'Biennale of Contemporary Art' (Moscow), 'Waterfront' (St. Petersburg — Helsinki — Copenhagen); International cultural forum (State Hermitage).
You are defined as a sound artist. What's your background (schools of art, music instruments you studied, artists or artist currents you followed) and major influences in your career?
I've always had a keen sense of the sound around me. Everything around us is in constant motion. Various components of the infinite forms of the material world interact with each other under the influence of the laws of nature. Sound is born from this interaction. Most of my creative path I comprehend empirically, learn and follow nature and its laws, consider myself as an integral part of the universe and the world as a single organism. I have two degrees: in art and engineering. These seemingly unrelated directions intersect perfectly producing an interesting result. I feel that the present is an era of unity of science, spirituality and art.
Many artists and musicians of different times inspired me with their discoveries and creative fire. I am well acquainted with the works of academic musicians and avant-garde artists of the last century. But I can't say that some of them had a strong influence on the formation of me as an artist. I was born in a family of professional artists and from early childhood I was engaged in visual art, felt complete freedom in self-expression and constantly experimented.
Also, travelling had a great influence on my approach to art, and trips to India are especially important. I have been to this amazing country many times, exploring culture, life and philosophy. There I was given the opportunity to contemplate and be more attentive to the sound environment. I often listened to the local musicians performing classical Indian music and improvisations. Inspired by the sound of the instruments, I practiced playing them in my creative studio for a while. I improvised on Indian esraj and gopichand, Japanese shakuhachi, classical violin and various ethnic drums. Then I discovered the self-sufficiency of the sound produced by the instruments and objects I had created for that purpose.
You are a musician, an inventor, an artist. How and when did you decide to put together these very different skills and talents to create your works for the first time?
Love for technology and design were handed down to me by my grandfather, an engineer and a navigator. From an early age I was passionate about designing various devices and mechanisms, using simple components and radio parts. I got my first education at Marine Engineering Institute, majoring in mechanical engineering. Then I realized that the path of art is closer to me. Having received higher art education, I continued my career as a free artist, combining different approaches and directions, working with paint, sound and technology. Such cross-platform is one of the features of the modern experimental art.
My first experiments with the design of musical instruments and sound sculptures began in 2012. Then I assembled the first sound device, a synthesizer, on the principle of Circuit bending. Along with the experiments in the field of electronics, I started finding out more about acoustic features of various materials: metals, quartz, natural formations, plastic, etc.
At first, I paid more attention to the creation of unusual musical instruments, later I devoted myself to the creation of sound sculptures and technological sound objects, as well as spatial installations and sound architecture.
When you are planning your works, what comes first? The artist or the musician?
Sound and visual side are united in my perception, but in the recent years I am more engaged in the construction of sound sculptures, musical instruments and sound performances. I'm looking for a form as an artist, and I'm looking for sound as a musician. Therefore, in the process of creativity, these aspects are equally important to me. But, first of all, as a rule, I am interested in the sound potential of the future work.
Restarting life "in the same forms but with a new purpose" is a recycling project, defined "Secunda Vita" you have been up to since 2013. So, you have been working on a series of technological sound objects. Defective and redundant technological devices are turned into sound sculptures. The major feature of these works is the principle of continuous variability, typical of natural phenomena. The visitor is called upon a sort of acoustic awareness. Do you think art can save the planet?
Art supports and develops a sense of beauty in a person. But of great importance is what semantic or emotional message the artist gives to the viewer. Like everything in this world, art is a tool through which you can create and destroy. In my approach, I focus on acoustic awareness, invite the viewer and listener to the area of contemplation of a single sound or soundscape.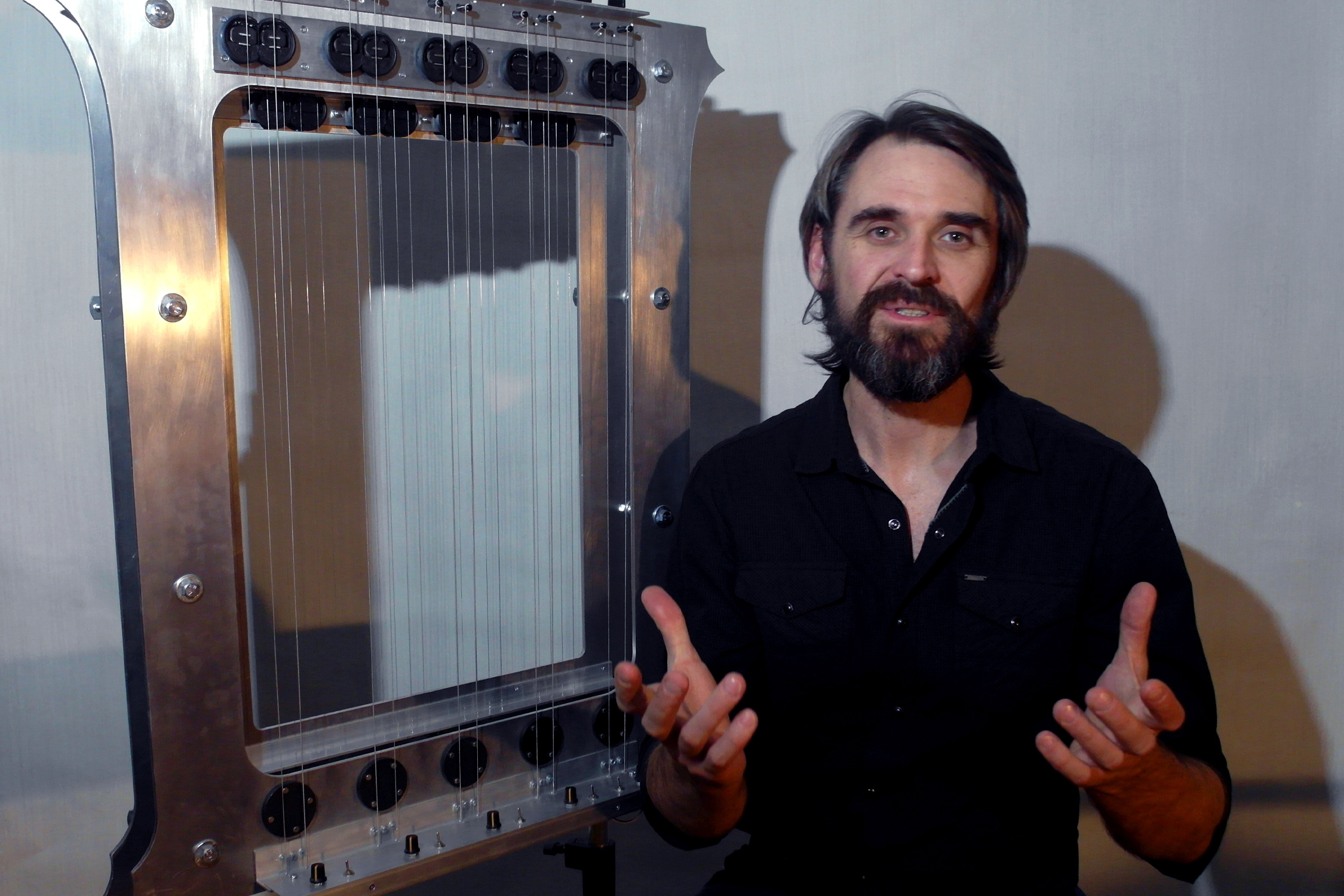 You participated in remarkable art exhibition, such as Waterfront, 2017 (Saint Petersburg – Helsinki – Copenhagen), Art Electronica, 2015 (Linz, Austria), Geek Picnic, 2017, CROSS-ART, 2015, Technoart, 2016, ProToArt, 2017, etc.. Is there any particular experience you will never forget?
All festivals and exhibition projects, which I was lucky enough to take part in, gave me a unique experience of transition to new layers of ideas and their implementation. Especially bright and unusual one for me was the Waterfront project where I presented two works at once: the first was devoted to the Baltic sea (multi-channel soundscape, based on field recordings made under water on hydrophones specially created by me).
The second work was in a site-specific genre. I created a technological sound object that was built into a real pressure chamber. As a result, it became a chamber acoustic space with a complex sound.
Another interesting experience was at the Usadba Jazz festival, where it was possible to create a sound art-dome, in which several different objects and sculptures in the space of the hemisphere sounded as a concert.
The international festival Artprospekt was also unforgettable: the sound installation was suspended in the arch of a house. It was the experience of public art, I felt the positive feedback, support and gratitude of local citizens.
You have been a member of artists of Russia, member of International Association of arts – IAPA UNESCO, member of the professional creative union "Free culture partnership", and also Community member soundartist.ru. What is your commitment and your goal as an individual artist and member of such important communities?
Being in a particular professional community, the artist has the opportunity to interact and share experiences with colleagues at a certain level of knowledge and skills, to solve problems together and to develop.
Last year, your sculpture "Orpheus: song for the Whales" won as Best Media Object at the 8th annual "Sergey Kuryokhin Contemporary Art Award" (St. Petersburg). Sound is fundamental to whales and dolphins for hunting, navigating and above all communicating. It is also a sort of echolocation. As they do not have vocal chords, their production of sound is still a mystery. At the same time, the artistic result is often a mysterious act of creation. Maybe there is a common spiritual hand over the whole beauty, in nature and in art. Don't you think so?
That's exactly what I think! I never cease to be surprised by the variety of forms in this world and the individuality of each. I feel that everything is one organism, in which everything is interconnected and affects each other. Everything that exists in the world is a creative act. Nature itself is the Supreme artist. There is no doubt that some spiritual force inspires and directs every living being for the act of creation in one way or another.
You have just won the Seventh Edition of the COMEL Award with your work Platosonus. The Jury awarded it with the following motivation:
"In the work Platasonus, Sergey Filatov, referring to the experiments between avant-garde music and visual arts, uses aluminum as sound metal with essential construction and original and minimal technology, thanks to the percussive action of wires moved by simple electrical devices, bearing small clappers at the end. The contrast between the functional essentiality of the structure and the evocative randomness of the musical effects is resolved in a sense of delicate, discreet and intimate harmony, which is not free from a subtle and perhaps disquieting allusion to the possible hybridizations between man and machine ".
What do you think about this experience in Italy and specifically with the prize?
For me it was especially joyful that Platosonus passed the qualifying round and was exhibited with the works of great artists from Italy and other countries. It was a great honor and a real happiness for me to know that I was the winner of the competition according to the jury. The visit to Italy and communication with the participants and organizers of the exhibition expanded my horizons in the creative way and human relationships.
As for the topic of the interaction between man and technology, it is inevitable for the civilized life in our time. Developing technologies allow a person to penetrate into more subtle and complex corners of the universe at macro and micro levels, which is also one of the methods of self-knowledge. However, in the case of Platosonus I don't feel anxiety from this hybridization, it is rather a situation of a harmonious combination of robotization and sensuality.
What's you next project?
I am preparing for a personal exhibition in the COMEL Gallery with great enthusiasm. I want to build a new sound environment. It will be something incredible! I use a number of existing and brand new sound sculptures and generators made of aluminum.
Also, several personal and collective exhibitions are planned in St. Petersburg and Moscow in the near future.