Interview to Maslen & Mehra
Tim Maslen & Jennifer Mehra's works are included in numerous collections such as Tattinger Collection, Switzerland, Galila Collection, Brussels, Art Es Collection, Madrid, Altered Landscape Collection, Nevada Museum of Art, The Frissiras Museum Athens, Nature Art Museum South Korea, The South Australian Museum, The Art Gallery of Western Australia, UWA Art Collection, The Eden Project, RCI Liberty of the Seas Miami, The Holmes à Court Collection, Loreal Collection Paris, Lianzhou International Photography Collection China, The Kerry Stokes Collection, Piramid Sanat, Istanbul.
Solo exhibitions have been staged in many countries all over the world. An interesting monograph titled 'Mirrored' was published in 2008 by Verlag für modern Kunst Nürnberg with texts by Art historians Edward Lucie-Smith and Eugene Blume.
First of all, the audience is probably curious to know something about the origin of the couple Maslen & Mehra. How did you decide to create art together?
We met in London in 1999. Jennifer had set up and was running an artist run gallery space with some other artists. Tim had recently finished an MA at Goldsmith University. In 2000, we were offered a very unusual space to stage an exhibition in Sydney during the Olympics. We considered showing as individual artists but agreed that the nature of the space was conducive for one installation piece. We started developing a collaborative, sculpture installation for the Sydney show and exhibited our first experimental installation in London as a prelude to the Sydney exhibition. We enjoyed the process of working together and found that our different thought processes and skills complemented each other. We have worked together ever since. (And got married somewhere along the line…).
In your colored large format photography, landscapes are often present, not simply as a background. It seems to be an extended pictorial space where your silhouetted figures stand out. Which kind of landscape do you look for? Does it correspond to an inner space or to a projected outside space? Or is it rather a human developed space where men have occupied and settled like antique conquerors used to?
The figurative sculptures are often based on drawings of people observed in an urban context: someone with a briefcase, someone on a mobile phone, etc.… By placing them into the landscape and photographing them in this new context, we aim to forge an unusual synthesis at first sight: the juxtaposition of highly urban people and wide-open spaces. The result of these forced symbioses raises issues of the human existence and alludes to the impermanence and fragility of mankind. The illusory qualities of the compositions allow the figures to merge with, and stand out from, the landscape simultaneously. They beg the question…Are people a part of, or apart from, nature?
The silhouettes are a recognizable mark of your works. They are cut in two dimensions out of mirrored aluminum. What do they represent symbolically and when did you have the idea of this kind of artistic topic?
The aluminum sculptures allow us to create temporary illusions which we document with a film camera. The ghost-like figures briefly inhabit the scene and are only visible due to the reflections on their surfaces. We developed this methodology whilst undertaking a residency at The Eden Project, Cornwall. The Eden Project has a very clear narrative about the relationship between people and nature. We were free to explore the biomes and investigate different ideas and began experimenting with temporary interventions amongst the foliage.
Is aluminum your favorite material? What features do you most like exploiting of it?
For us, the reflective qualities of aluminum and the fact that we can create shapes of our own design meant it was the perfect material for this body of work. The photographs themselves are laminated between Perspex and aluminum. This fabrication process allows the work to breathe and avoid the confines of a frame.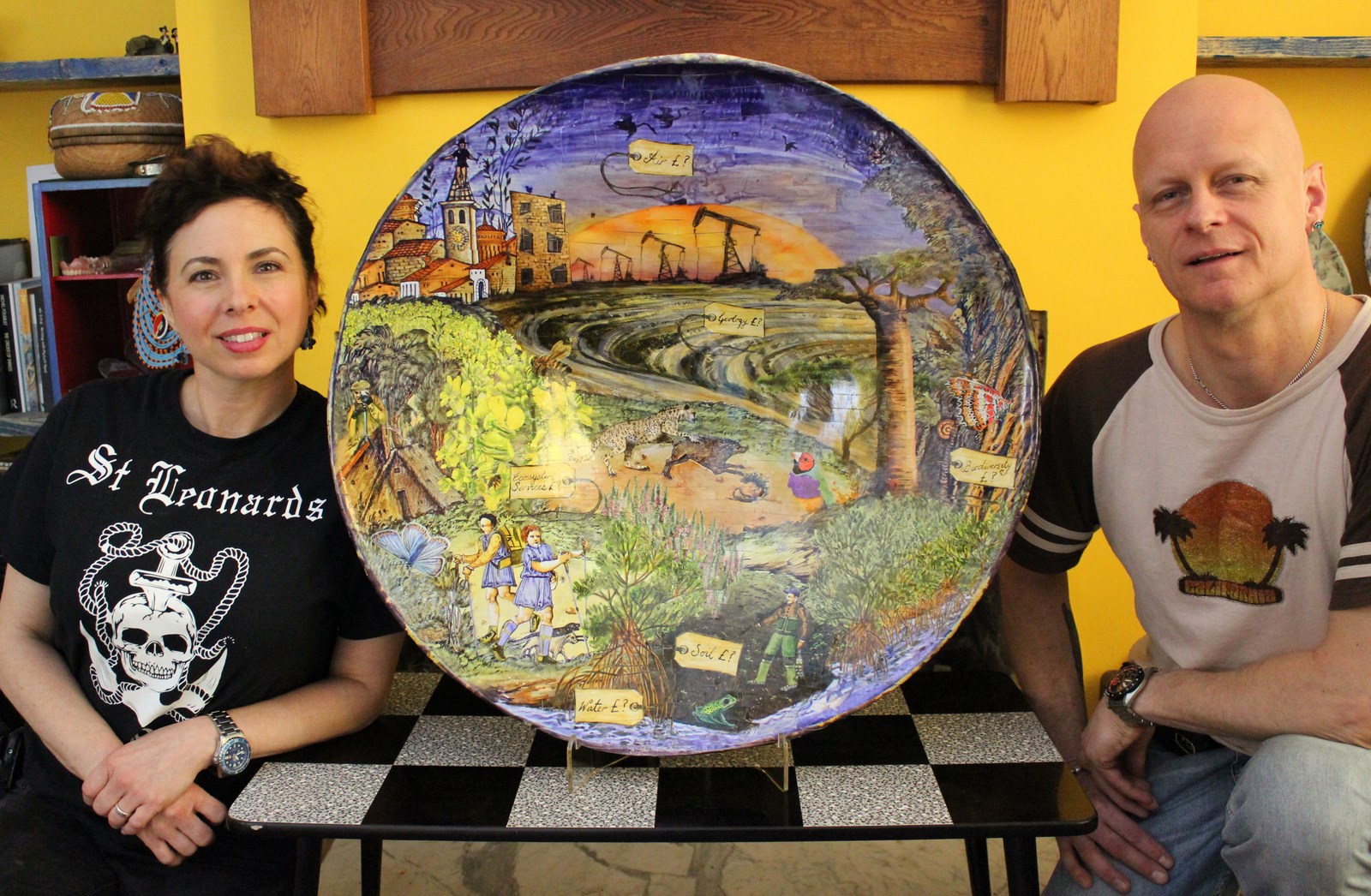 Jennifer Mehra &Tim Maslen
Observing the various works of different collections and exhibitions, one is tempted to define your art as 'environmentalist'. Maybe it's a risky and loose term, because art, in its freedom, always eludes precise definition, when there is no manifesto that declares it. However, it is environmentalist in the commitment that it transmits, in the scenarios, in the intrusion of the soldiers into nature. And nature always seems to win the confrontation: the soldiers eventually end up being a temporary presence, they may be replaced by other silhouettes, always expected to disappear, while the trees, the grass, the landscape remain.
We tend to avoid assigning labels and categories for ourselves preferring not to create such limitations. Viewers can be inclined to refer to us as 'environmental artists'. However, it's evident when one looks back at our work that we have not embraced one type of art whether that is photography, sculpture or installation art. It's the same for the subject matter of our work, which is constantly evolving. We consider our early work to be 'macro' having a broad brush or an overview. Asking the big questions…'what is our place in nature?'; 'what place does nature have in our developed world?' We consider our more recent work to be 'micro'. By that we mean we are honing in on very specific dilemmas in politics and the environment. This requires a completely different methodology in order to create work with detailed narratives.
Does the mirror reflect the viewer or does it project the artist's idea? The viewer is directly involved, as he looks at your work and, at the same time, he finds himself, his image. Is there a match point between the two processes?
It's really up to the individual and their own experience. Some people may not spend any time considering their place in the natural world, whilst others will relate to the imagery on a personal level. We can only express our own feelings and imagine that some people will share our philosophical ideas.
Are there any inspirational artists of the past that you consider emblematic in your career?
We've never followed a particular artist's work. We appreciate all sorts of art; everything from ancient to contemporary. We do gravitate to work which includes the artist's hand, speaks directly and leaves it up to the viewer to form their own interpretation. Whilst it can be interesting to augment an experience of an artwork with a descriptive text, it can be disappointing if the work is reliant on it.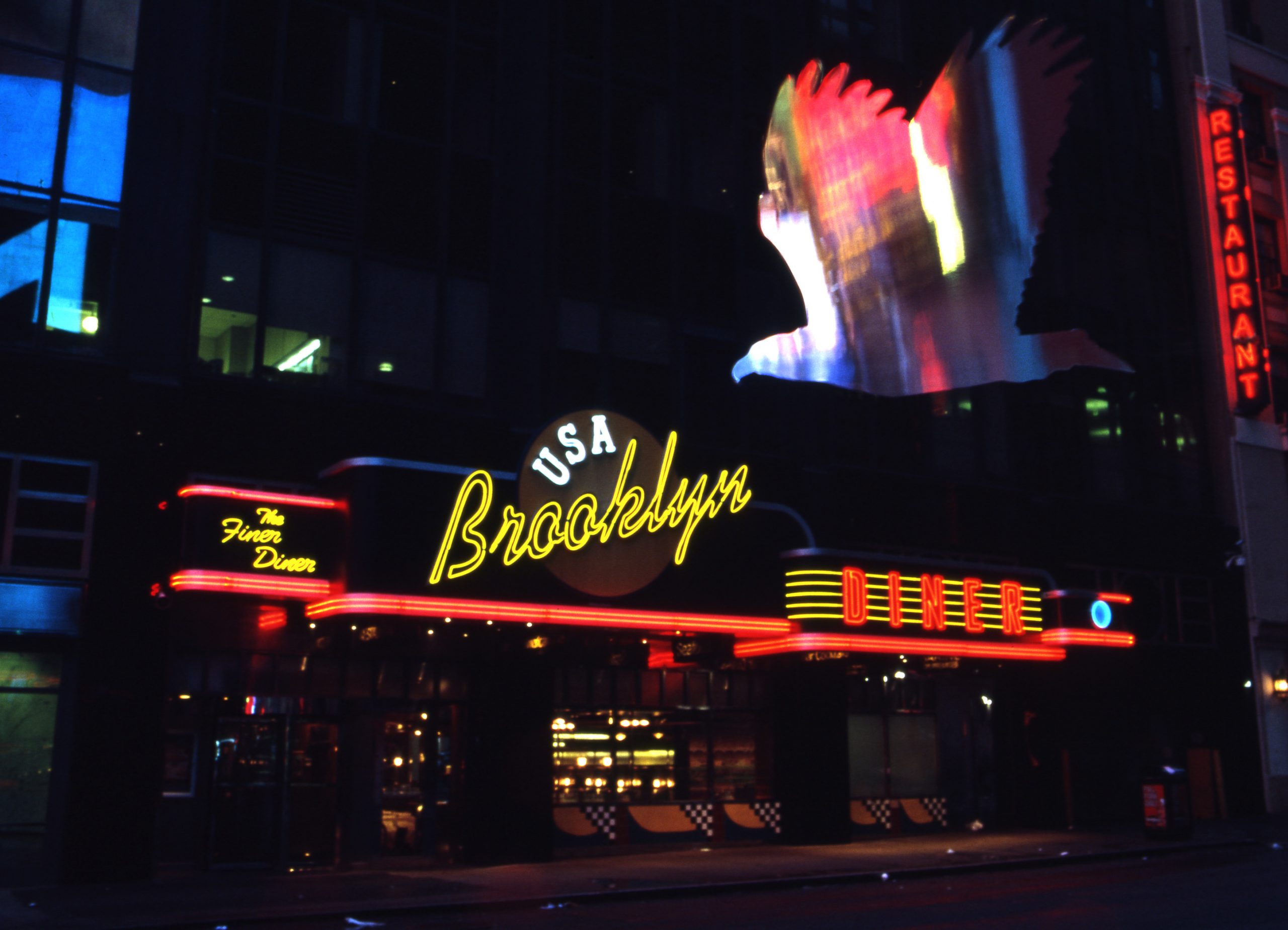 American Eagle – Times Square – New York
Your silhouettes often represent animals and they are surrounded by an urban environment. They were also shown in the streets of some important towns (New York, Rome, Berlin, etc.). What's the connection between nature and an urban scenario? The animals strolling around keep their feral quality or are the towns the ones that are becoming feral?
Heavily built-up urban landscapes are photographed in the early hours, when they are devoid of human activity. We take this fleeting opportunity to re-introduce native species into the picture in the form of mirrored sculptures. Roe Deer appear to graze in Canary Wharf, a financial district of London; an American Eagle takes flight in Times Square, New York, capturing a skyscraper and brilliant neon on its mirrored wing. The imagery allows the audience to experience a city, which is quiet and still — a place, which subsequently can sustain the existence of species other than ours. This is not to say that we wish for the demise of people and the triumph of nature. The imagery seeks to engage with the viewer and instill in them a desire to witness a more balanced and equitable existence on earth.
Do you think contemporary art may have a special function in improving the natural setting, for example by creating a type of architecture in balance with the natural landscape even in the urban environment? Or do you think it may somehow change in a positive way people's attitude towards nature?
Architecture and technology which treads lightly, as far as the environment is concerned, should be the future. Unfortunately, wherever there is money to be made, these considerations are not always prioritized. We admire projects which consider the environment, which aim to develop something which is either in harmony or at least not detrimental to the environment. However, until this approach becomes main-stream there will be little effect on climate change. Contemporary art can certainly promote an awareness of, and an appreciation for, the natural world.
Being an artist is more a joy or a responsibility?
We don't really see being an artist as either a joy or a responsibility. It's a tough career path. If you choose to follow your creativity, it's a choice outside the norms of society. Consequently, the risks and sacrifices are immeasurable. However, there is contentment in knowing that you have been true to yourself.