Interview to Luce Delhove
Luce Delhove (Uccle, 1952) is an artist of Belgian origin. Designer, printmaker, painter, sculptor and photographer, she lives and works in Milan, where she holds the Chair of Graphics at the Academy of Fine Arts of Brera.
After spending her childhood in Africa and in Belgium, in 1960 she moved permanently to Italy. She trained in Milan, attending the Polytechnic Institute of Design, where she met, among others, Bruno Munari, Guido Ballo and Attilio Marcolli.
Then she enrolled at the Academy of Fine Arts in Rome, where she had her first solo exhibition (at the Mondrian Gallery, 1979). In 1980 she began working with the publishing house Belvedere, illustrating some books and, the following year, she was a founding member of the Cultural Tekhne Association of Rome. In 1885, thanks to the festival 'Dodicimenotrentacinqueprimo: Young Artists in Rome', her work attracted the attention of gallery owners, critics and collectors.
In 1992 she became professor of Engraving Techniques at the Academy of Fine Arts in Turin and, subsequently, of Venice (1993) and Milan (1994). In the following years she devoted herself to sculpture, using cellulose and textile materials. Also she has created jewelry of slate, silver and bronze inspired by her work.
In 2005, she was recognised by Gillo Dorfles, at the Biennale of Applied Arts AD ARTE. In the same period, the artist worked with some poets for the creation of limited edition books and folders with engravings.
Since 2009 the artist has stayed in Paris on an annual basis. Here she met the gallerist Naila de Monbrison and showed the jewelry-sculptures in a solo exhibition entitled 'Ardoises …'. She presented 'The Bucket Rider', a work inspired by a Kafka novel in two exhibitions, one in Orléans and the other one in Mexico City.
She was involved in hundreds international of exhibitions and her works are permanently in collections, museums and galleries in Europe and in other continents.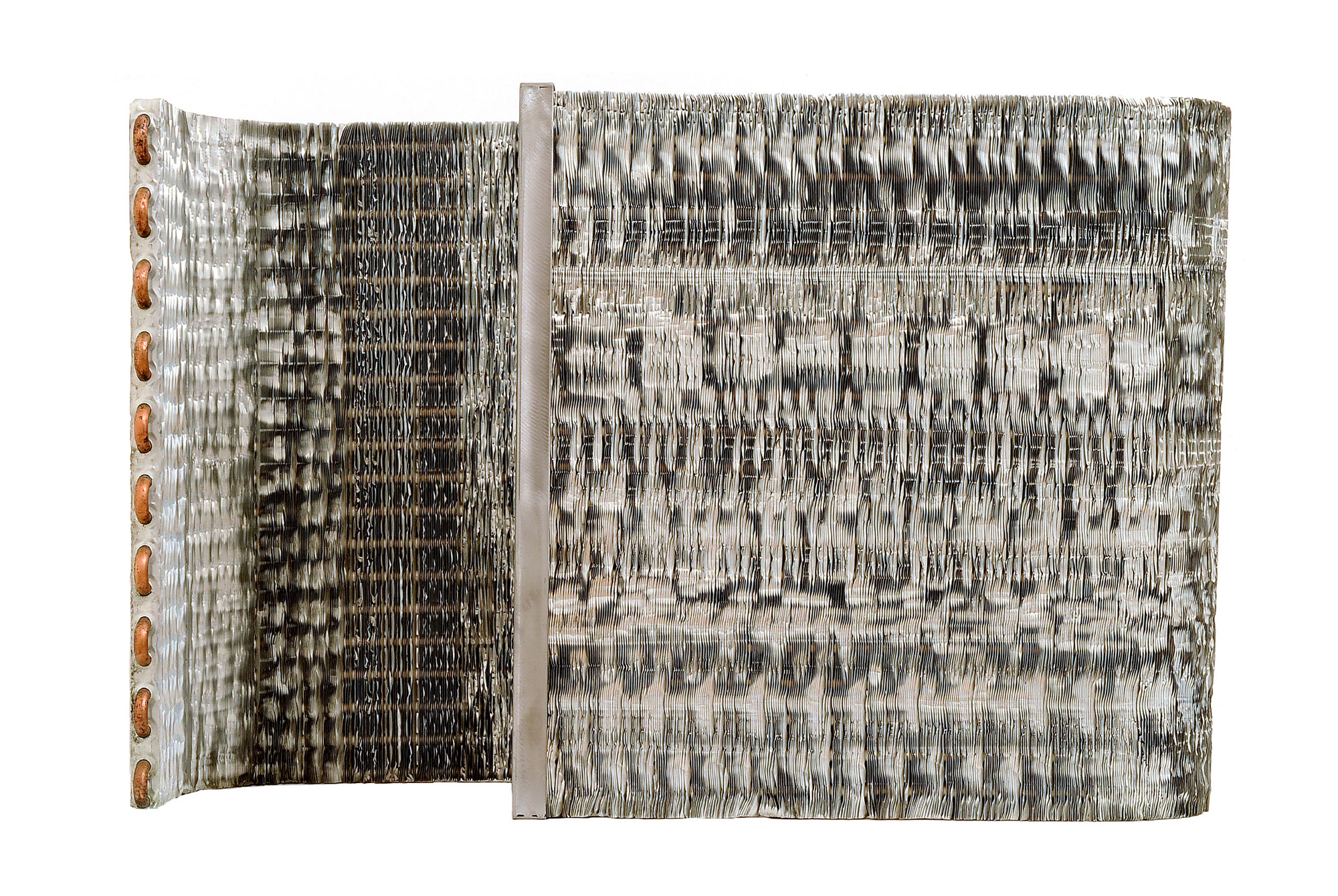 Reading your biography is like reading a book with pages made of different materials. There is neither a clear division in phases nor in periods, rather epiphanic discovery of a material from a certain point onwards. And that material will alternate or join with other new, building new artistic textures. So in your book we now leaf through the paper, now the copper, now aluminum, now the canvas, now nature… Everything becomes lived and artistically rendered. How and when did the artistic journey begin?
My artistic vocation is innate. During my childhood I developed the perception and the memory of dilated spaces, first in Africa, then in Italy, especially in the ploughed fields of Umbria. The Umbrian and Sienese landscapes and numerous trips to Europe and the United States influenced me a lot.
Africa, Belgium and the artistic education in Italy, up to your experience of teaching at the Academy; an itinerary that surely left memories associated with various colours inside you. Were you aware of assembling such different life experiences?
I've assembled different life experiences, finding in them some central ideas, such as signs, textures, light and space. In 1986 I met Gabrielle Belgeonne, an artist and professor at the Ecole supérieure des arts visuels de La Cambre in Brussels. She noticed there was a strong Nordic footprint in my work. She said 'It seems you have studied in this school.'
The activity of illustrator for the publishing house began immediately after your first solo exhibition in Rome, in 1979. Over time illustration has become engraving, symbiosis with the poetic art, leading to the creation of valuable works in limited edition. Did it consist of parallel tracks or a real intersection of languages with the poets with whom you collaborated?
For me, engraving has an autonomous language, which I have developed in my poetry. Some writers have interpreted my works with their writings and poems. But in other situations, I searched and found affinity with some of these writers and poets.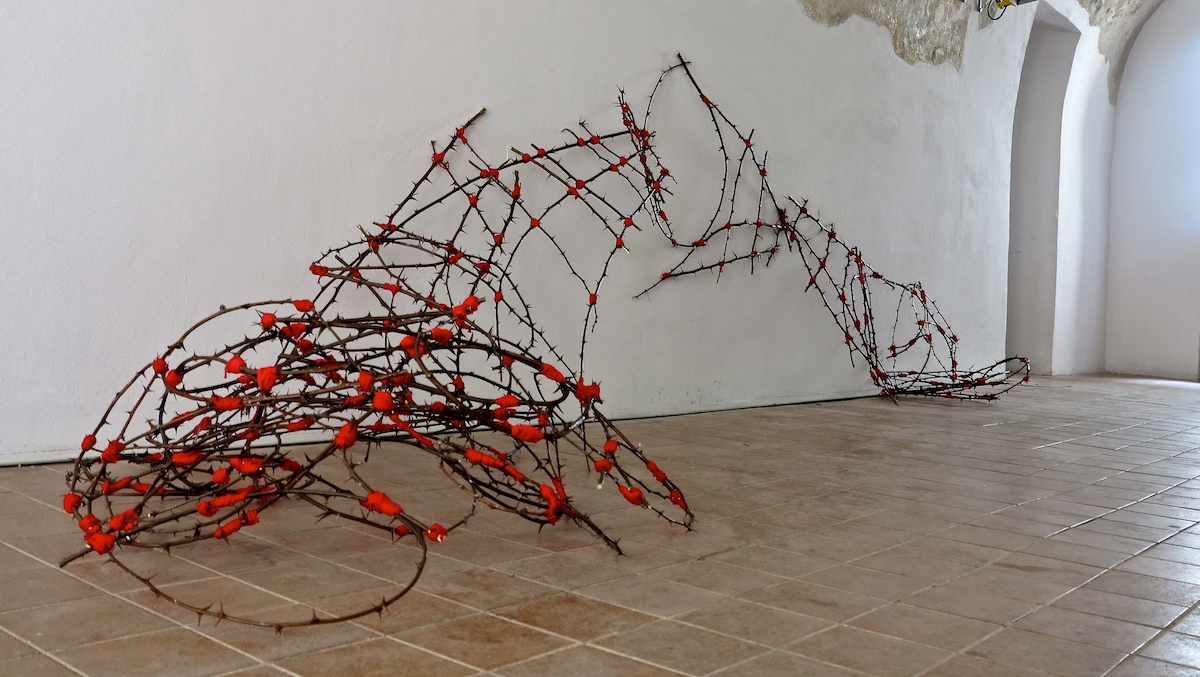 The search for light always seems to permeate your work. Initially in the two-dimensional space of engraving, and also in drawing and painting, then it has crept into three dimensional space of sculpture and installation. What does this research represent to you?
The search for light is the light of my creations, but also the absolute life.
The palm is a tree on which you have focused particularly, studying all its parts. Fibers, leaves, seeds, have become elements of frottage, lines and folds of paper embellished of your movements. A seemingly fragile process that instead has a strong narrative will behind it. Perhaps it may seem ephemeral, as the natural material can easily deteriorate. However, the relation between earth (roots) and heaven (the crown of the tree) is solid. It seems you wanted to immortalize this relationship and make it breathe.
I definitely focused my attention especially on the palms, a work that I started during a trip to Hyeres les palmiers, in France, in 2006, visiting the many gardens, and inspired in particular by the fibers that are under the bark. I later finished this search at the Bogliasco Foundation in Genoa, where I stayed for a month, creating vertical cards as large and sumptuous Kagemono.
In the last few years you have used iron, copper and recycled aluminum objects. What triggered this new love? The possibility of giving infinite life to an object doomed to destruction, perhaps? In some cases you also make them mobile, giving them a movement that they did not originally have.
Since 2002, I began to experiment with new materials, textile fibers and papier-mache to make some sculptures. I went into the landfill to find new shapes adapted to my research. But later my attention lingered on a radiator. The color of the silver aluminum, its fine plates, and, in particular, some dents, have suggested that I worked on the deformation of the surface making it shiny. Thus reinventing my research on patterns and light. Here, the light, measured in its infinite reflections, intervenes in the plastic definition of sculpture. During the processing of the work I was struck by the sounds produced repeatedly beating on the metal surface. They were sounds that, resulting from manipulated material, could themselves become components of the artistic project. Consequently, I involved the composer Caterina Calderoni in the final elaboration of my project. She composed a musical score entitled 'Les stries du silence', recording the various sounds of different musical instruments played on the surface of the works of the series 'Raminie'.
'Raminia 12' is a work of 2012. It has won the fifth edition of COMEL Prize. The theme of the prize was the light ('Lucent Aluminium'). Did you enter the light in the object or just take the light out from it? Can you explain what kind of work has the initial radiator undergone?
In 'Raminia 12' I wanted to enter the light inside the sculpture, deforming the aluminum lamellae, strictly aligned, creating a texture with a more intense volume and extra shine.
I worked the lamellae with the equipment I usually use in graphic, to engrave on zinc and copper plates, such as punches and copper wheels, in sculpture to chisel the stone, along with maces and everyday items, such as fork, knife and spoon and many other instruments like iron spatulas, screwdrivers and other tools.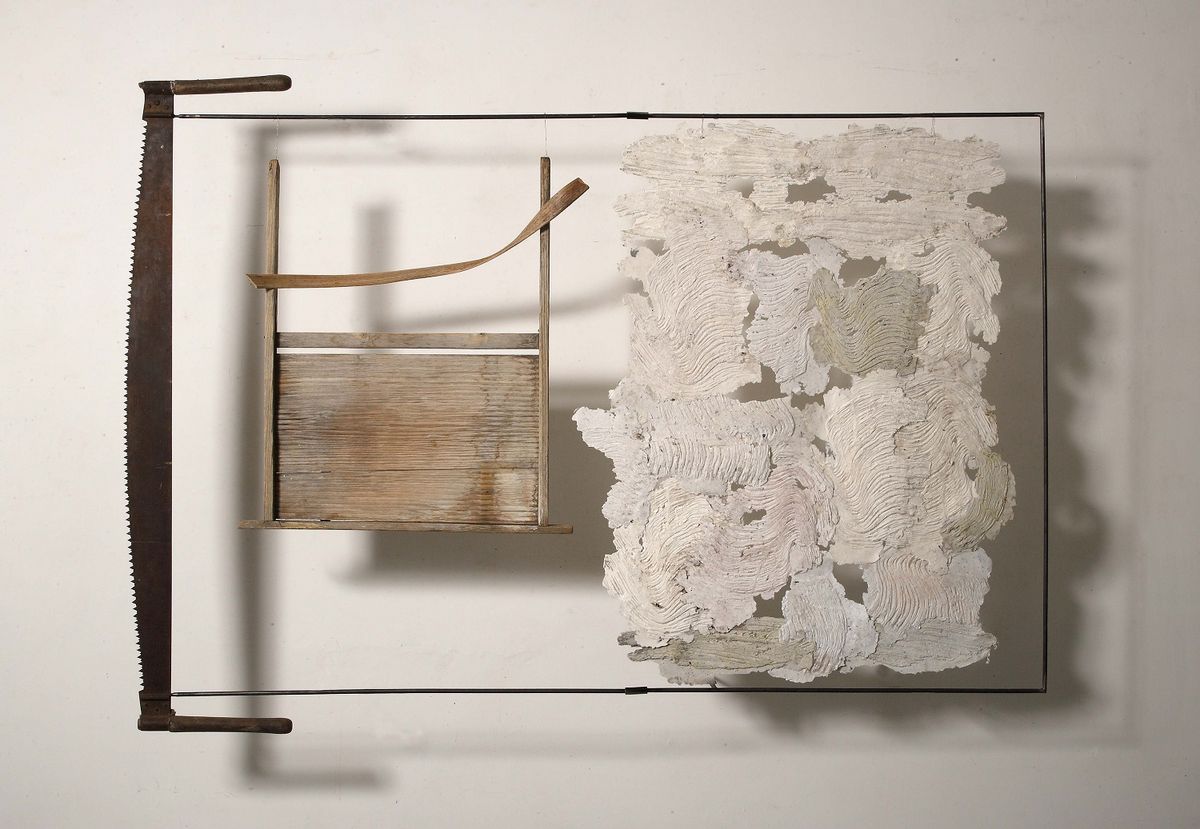 The Middle Ages is an era that has fascinated you a lot, enough to dedicate an exhibition of sculptures. It was a survey of the plasticity of your art and no doubt the revelation of light, beyond the prejudice of the dark ages (now history tells us it was a time full of turmoil and extreme opposites and no longer closed in a historical period, rather it has had similarities with other times). Then there is the series "Deny to affirm." Everything may be something else.
As a contemporary artist you defy and rely on different techniques and historical times. It almost seems that you want to suggest that the time is just an interval we choose it to be, an illusion, a reading, a way we look at things.
In fact the exhibition was titled, 'Timeless Sculptures'. The title 'Deny to affirm' refers to the series of pastels and engravings, made in 1993. Here I worked on the textures, erasing the engraved signs with a burnisher (rubber engraver), to affirm the existence of a filtered light.
One of your exhibitions is titled 'Ars Liquid'. The water was the chosen element, and Adda was the inspiring river, together with Leonardo Da Vinci's studies to which you were devoted for a long time. You have used an ancient Japanese technique to work with paper and you supported the transformative power of water: the color put in a bowl takes possession of the Vlieseline sheet giving it a marble effect. Sculpture and liquid work, ancient and contemporary, are not opposed; they are complementary in your art and necessary to each other. And then there's the history of the area around the river, the story of women that you so much have at heart. Would you like to tell us about it?
The story began four years ago. I began to follow the river following a rehabilitation. The history of that territory is fascinating because of the river, which starts from the Valtellina and flows into the Po, going through Paderno d'Adda up to Trezzo d'Adda, the territory where Leonardo da Vinci designed a system of locks and was inspired by the river rocks to create the painting 'The virgin of the rocks.' Along the river, there were many mills, where mainly women worked with the silkworm, always with their hands immersed in water. I produced an important series of works dedicated to the flowing river and its habitat. Some large cards made with marbling, drawn and painted, exhibited in my installations, along the river.
Your jewels resemble creatures of the past, or perhaps other places. They transmit the memory of everything you've gone through, becoming themselves space and time, fragments and completeness, forms and substance. Perhaps they are the most distinctive representation of your dancing continuously between space and time.
The jewels are designed as wearable sculptures. I began this adventure after two stages in Valle Argentina, Liguria, where I began to work with slate. The first jewels were made of thin sheets of slate, polished and perforated to obtain small sculptures. Since this experience onwards, all my jewels have always been closely related to my works. Research on textures, shapes and materials, all linked to the discovery of new places and images.
Teaching art to the Academy students is certainly a challenging work, however aimed at people already very motivated. Would it not be useful if the art academies found a way to be opened to the lower grade schools to raise awareness in the young? There is a gap between art and society in general.
We welcome the many young people, the days of the open day, giving information and also the opportunity to visit the Academy of Fine Arts of Brera and our laboratories. Punctually every year a former student of mine, now teacher at art school, brings his students on a visit into my graphic workshop at the Academy. Of course, informing young people is essential.