Interview to George King
He has worked as an architect on projects based in Australia, Europe, US, Middle East and Russia. George was founding director at design studio NEON, where he produced work for high profile clients such as Topshop, MONA, M&C Saatchi, Peroni e Hugo Boss. He was Senior architect at Zaha Hadid Architects where he worked on the London 2012 Olympic Aquatic Centre, FIFA 2022 Qatar World Cup stadium, Central Bank of Iraq and Oxford University Middle East Centre. He has taught extensively, both at Undergraduate and Master's level, leading programs at Lund University in Sweden, the Bartlett School of Architecture in London and Monash University in Australia. He is founder Director of the GKA studio.
Have you always pursued your career as an artist? What's your background?
I am a registered architect who has always had an interest in sculpture. The foundation of my architecture practice is based upon the idea that these disciplines are interlinked and that the best projects are informed by architecture, art and design.
What's your own set of guidelines and procedure when you do your work?
We try to produce work that is engaging and intriguing. We always begin with the site and by researching the local history and culture of the area and the people that live there. 'Holding pattern' was inspired by Atlanta's prominence as a transport hub, connecting people and goods all around the world.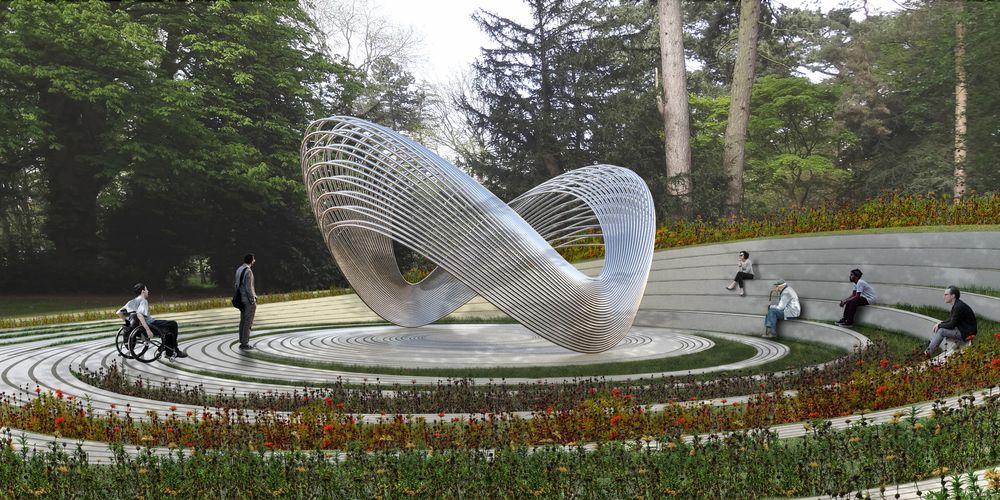 Holding Pattern (2016) was selected by the Jury of COMEL Award 2017 to receive a Special Mention. It is formed from 137 little planes cut from sheet aluminium and in 12 different sizes. The final shape is a vortex hung from the ceiling. The sculpture was installed as part of the 2016 Art on the Atlanta BeltLine event, the largest temporary art exhibition in the south of the United States.
How did you come up with this idea? What was your inspirational drive for this work?
The inspiration came from Atlanta's Hartsfield Jackson Airport, which is the busiest passenger airport in the world. The sculpture celebrates the important role that transport has played in helping to make Atlanta the world-renowned city that it is today. A hub for rail and air transit, transportation has made an important contribution to Atlanta's rich social, cultural and economic significance, both past and present. This network has not only disseminated goods, but also people, their cultures and their ideas for change and progress.
In the presentation of your Studio – George King Architects – you've explained your team's work is 'designed to initiate an emotional response, to stop people in their tracks and to break the monotony of the everyday.' You aim at provoking feelings and a positive impact. What's the most important common goal you share with your team's artists and what's the artist's responsibility in society?
Our ultimate goal is to produce work that makes people think differently about the space they are in, the places that they live, work or visit and the objects, structures and buildings that they interact with on a daily basis. We try to provoke a sense of wonder or mystery and show how thoughtful design can transform something ordinary such as a bench or a motorway underpass into something extraordinary.
You were senior architect at Zaha Hadid Architects where you worked on the London 2012 Olympic Aquatic Centre, FIFA 2022 Qatar World Cup stadium, Central Bank of Iraq and Oxford University Middle East Centre. What do you think of Zaha Hadid's genius and how much has it influenced you?
Zaha Hadid has been the single greatest influence on my career and on the way that I think about design and space. She was a revolutionary thinker and designer that was light years ahead of her time in many, many ways. She has inspired me to never settle for ordinary and to strive to push the limits of what is possible.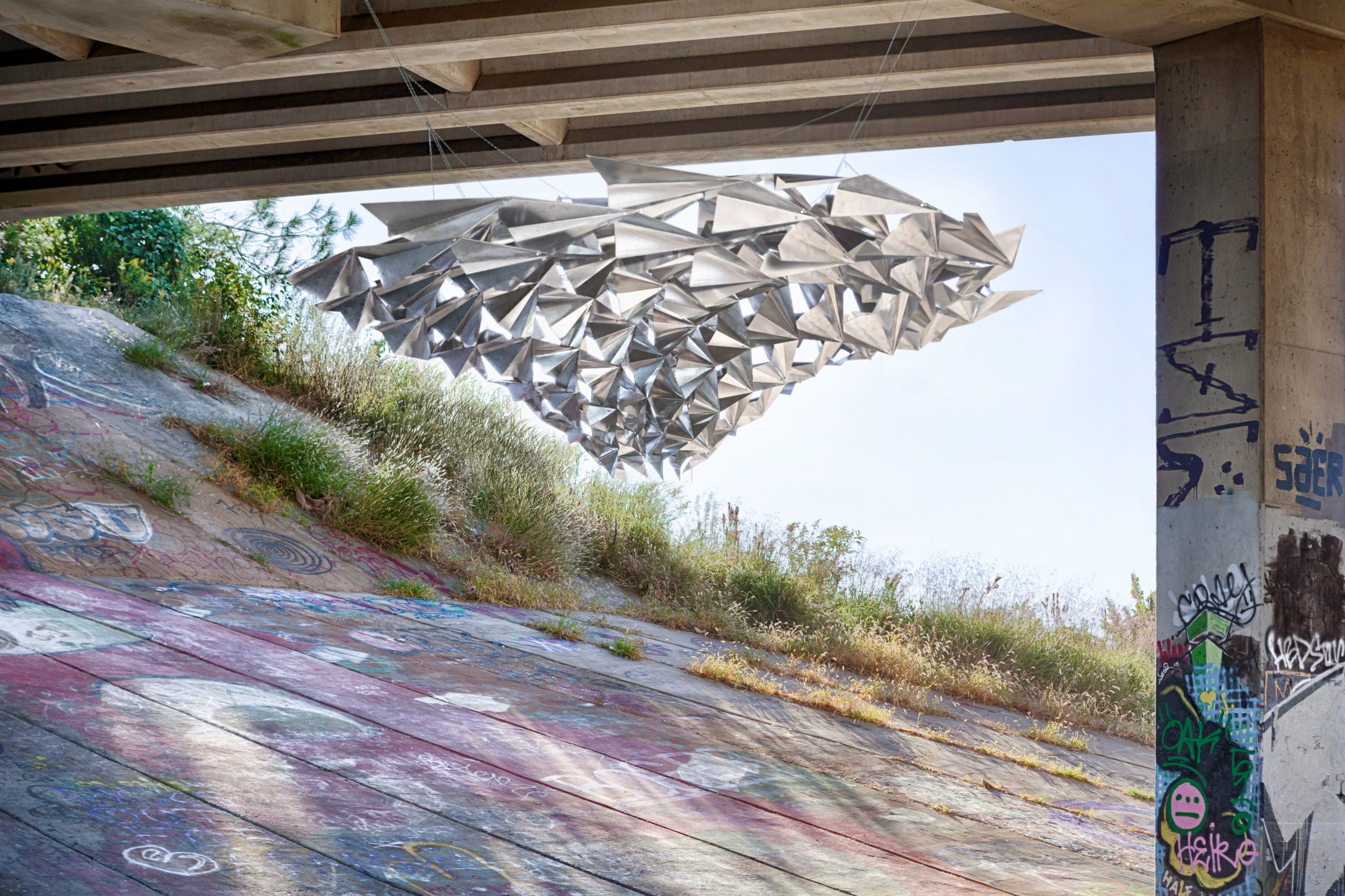 Who are the most inspirational artists of the past that you consider emblematic in your career?
My work is inspired by many artists, designers and architects, too many to mention them all. I admire the revolutionary minds of the past such as Duchamp who changed how art was perceived. The people who have been most influential on my career are those who span the disciplines between art and architecture, between buildings and sculpture. I am inspired by some of the heroes of the past such as Gaudi, Le Corbusier, Frank Lloyd Wright but also by contemporary practitioners such as Calatrava, Serra and Gormley.
In 2015 one of your astonishing installation titled House of Mirror was on display on an Australian beach, in the 'Sculpture by the Sea' festival, in Cottesloe. That was a contemporary reinterpretation of the traditional Australian beach huts, this time built with cages and mirrors which reflect all fragments of nature with a kaleidoscope effect. Your declared intent was to attract the attention of the bathers. Do you think contemporary art may have a special function in improving the natural setting and promote a positive attitude towards nature?
House of Mirrors was designed to encourage visitors to the beach to view their surroundings from a different perspective. Nature is very important to our well being but it is something that we sometimes take for granted. I believe that art plays an important role in challenging people to explore their world from a different angle.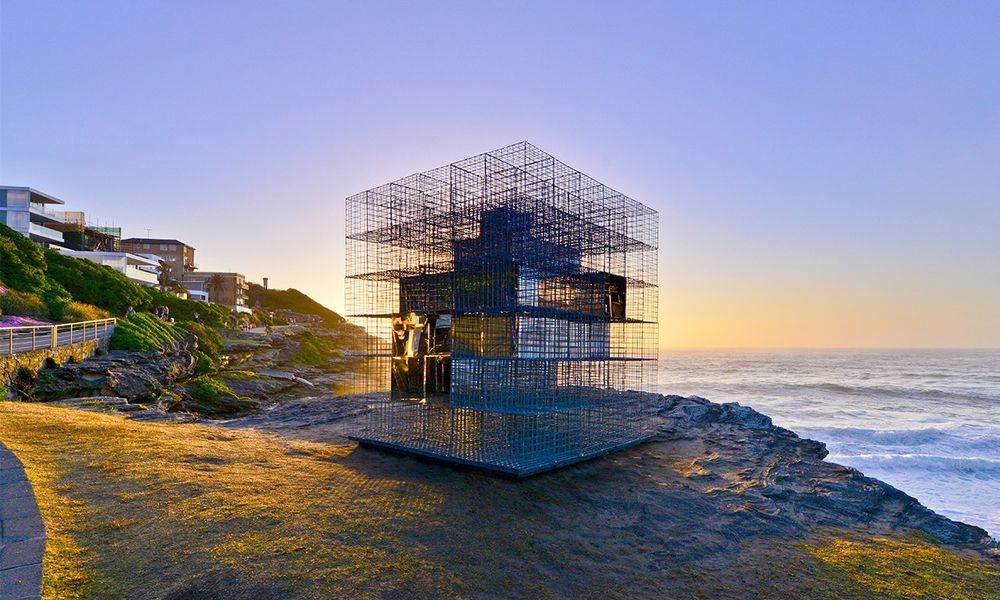 You've taught leading programs at Lund University in Sweden, The Bartlett School of Architecture in London and Monash University in Australia, and you've also travelled a lot for exhibitions and professional meetings, probably comparing your art setting with different cultures and various scenarios. How important is the encounter with diversity to renew art creation?
It is always exciting to travel and learn about different cultures, histories and stories. We enjoy producing work all around the world because it allows us to immerse ourselves in these places and inspires us to think differently, always learning from the people we meet.
Suspended shaped works are hung in stations entrance ('Holding Pattern', for example, under Freedom PKWY along the busy Atlanta BeltLine trail), colored motion shapes enrich windows of stores (Colour Wheel and Bloom at Topshop), also your large scaled artworks focus particularly on suspension and kinetic expression. It seems you try to give a sense of lightness.
These kinds of temporary projects are important because they allow us to experiment with different ideas in a way that is not possible with permanent works that must stand the test of time. We like to take the learnings from these small pieces and integrate them in the larger sculptural pieces and buildings that we design.