COMEL Award 2013: Tony Charles wins
The winner of the 2nd edition of the COMEL Vanna Migliorin Contemporary Art Prize 2013 has been announced: the artist Tony Charles for the artwork "Fletted Sign."
The winner of the 2013 COMEL Vanna Migliorin Contemporary Art Prize was announced on Saturday, April 6th, at the Spazio COMEL by art critic Giorgio Agnisola, on behalf of the jury. As is often the case with events organized by the Mazzola family, the audience was numerous, a clear sign of the lively interest in contemporary art and the hospitality that distinguishes the owners (Maria Gabriella and Adriano).
The exhibition "The Expressiveness of Aluminum", associated with the COMEL Prize, showcased thirteen exceptionally high-quality artworks, as highlighted multiple times by juror Agnisola, confirming the prominent position of Spazio COMEL among international art galleries.
The jury decided to award the COMEL Vanna Migliorin 2013 prize to the British artist Tony Charles for his artwork "Fettled Sign," with the following motivation: "The work is characterized by a refined balance between sign expression and material suggestion, starting from an ordinary object of industrial signage, on which the artist intervened with gestural freedom and informal suggestion, highlighting, as in a metaphorical process of symbolic and spiritual regeneration, the brilliance and properties of aluminum."
Tony Charles participated in the selection with the artwork "Fettled Sign," a painting that draws inspiration from industrial signage, utilizing the aluminum surface to create a sort of dreamlike mirror that absorbs contours, blurring identities, and sealing it with intense graffiti impressions contrasting with yellow and black colors. Tony Charles is an artist well-versed in the use and possible transformation of metals (having worked in the field). Sensitively attuned to the post-industrial shift, including its metamorphoses and resulting social issues, he uses art as a personal pursuit of beauty. He has exhibited internationally, including at the 54th Venice Biennale. He is also a co-founder of the Platform-A gallery based in Middlesbrough, England, where he lives and works.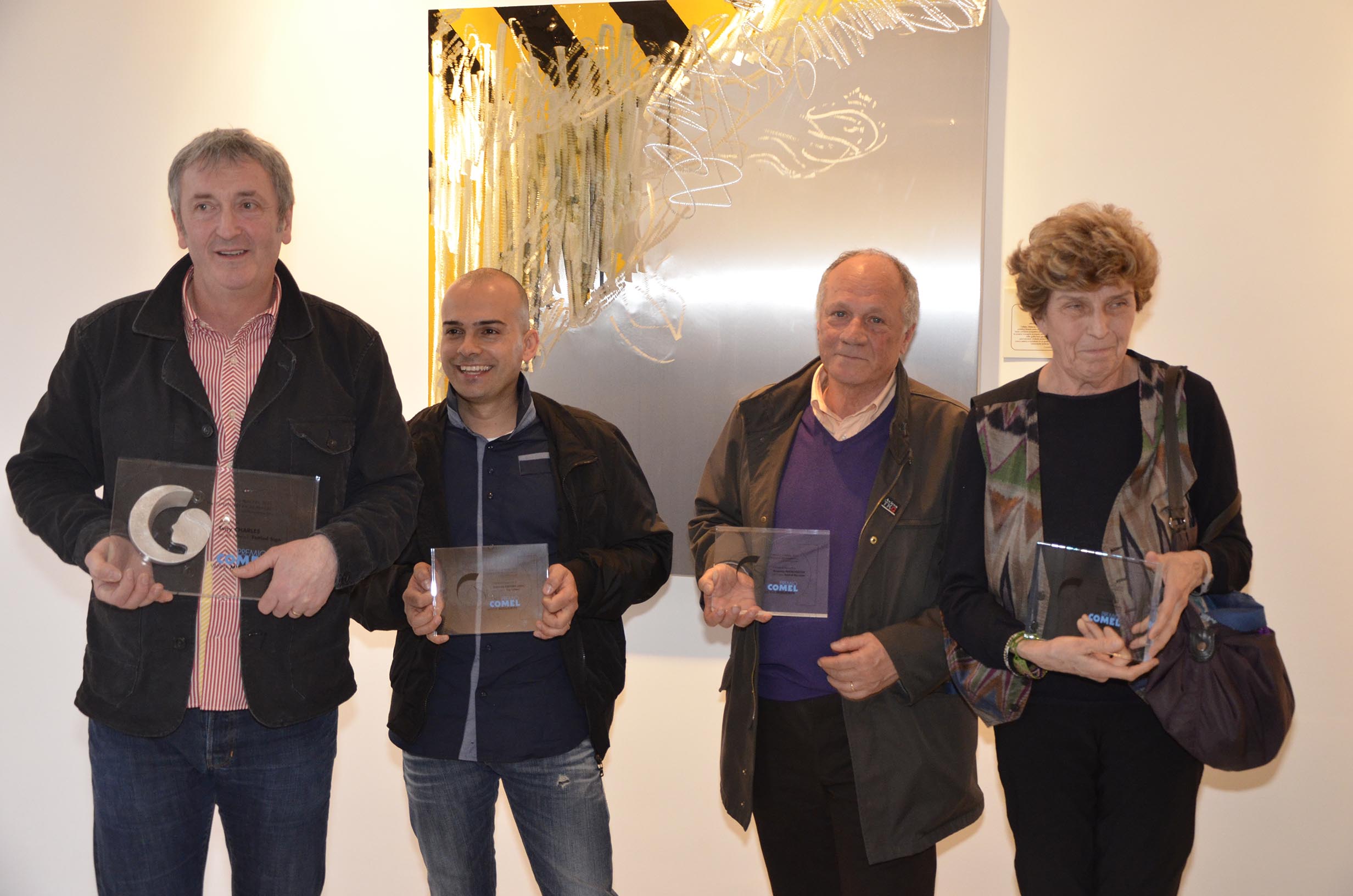 From sx: Tony Charles, Fabrizio Sanna, Venanzio Manciocchi and Anna Carusi
The jury, emphasizing the remarkable level of the selected artworks, also deemed it appropriate to award four special mentions to four particularly interesting works. Specifically, the works "Mercato" by Anna Carusi, "Fists" by Robert Kunec, "Resti di racconti" by Venanzio Manciocchi, and "Via lattea" by Fabrizio Sanna (GOA).
The closing ceremony will take place on Saturday, April 13th, at 6:00 PM, with the eagerly anticipated Audience Award.