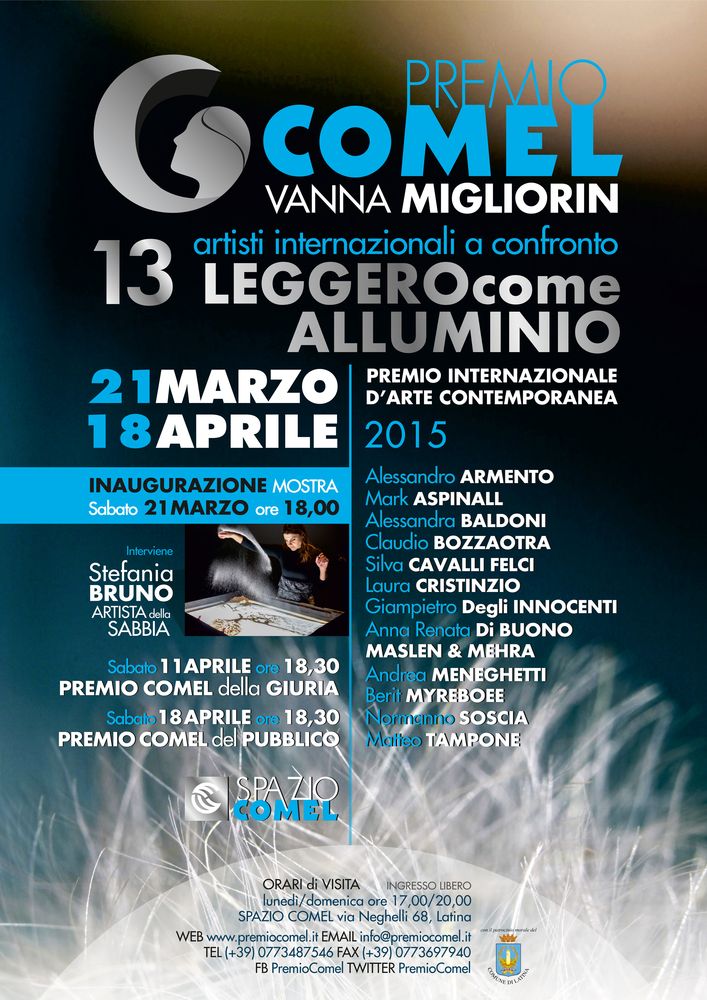 The thirteen European artists selected for the fourth edition of the COMEL Award Vanna Migliorin, will exhibit from 21 March to 18 April 2015, and among them the winner will be announced.
The art gallery Space Comel Latina is getting ready to host one of the most striking exhibitions of contemporary art.
The particular feature of this award resides in the fact that the works, in compliance with the entry requirements, are all made of aluminum, or mainly made of aluminum. Sponsor and organizer of the award is in fact the metalworking company CO.ME.L. of Latina, that in 2012, in memory of entrepreneur Vanna Migliorin, established the prize and created an art gallery to support concretely local and international artists.
Hundreds of works were submitted to the jury and many contacts were established in these preparatory months.
Title of the exhibition is 'Light as aluminum'. The title itself is not only evocative of the expressive characteristics of aluminum, the material of choice (or prevailing element) required for the works; it is also an appeal to a more disenchanted and free expression through art.
To quote the Italian writer Italo Calvino: "Take life lightly, as lightness is not superficiality, but gliding on things from above, without having boulders on the heart."
The artists who have won the jury over are: Alessandro Armento (Salerno, Italy), Mark Aspinall (Newcastle Upon Tyne, England, UK), Alessandra Baldoni (Perugia, Italy), Claudio Bozzaotra (Napoli, Italy), Silva Cavalli Felci (Bergamo, Italy), Laura Cristinzio (Napoli, Italy), Giampietro Degli Innocenti (Firenze, Italy), Anna Renata Di Buono (Arezzo, Italy), Maslen & Mehra (East Sussex, England, UK), Andrea Meneghetti (Vicenza, Italy), Berit Myreboee (Berlin, Germany), Normanno Soscia (Latina, Italy), Matteo Tampone (Torino, Italy).
The winner will receive 2,500 euros in prize money.
On opening day, the public will be greeted by an impressive performance of sand art, curated by the artist Stefania Bruno.